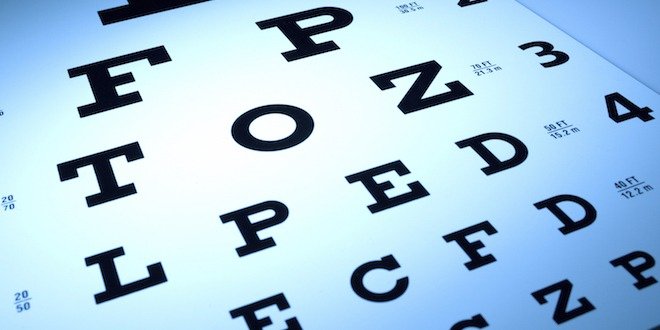 I often speak with people about the value of regular eye exams to detect and treat diabetic eye disease (retinopathy). They reply, "my vision is fine – why would I need to have regular exams?"
The answer is that although the best way to "treat" diabetic eye disease and potential loss of sight is prevention, if eye disease does develop, there is very good treatment available.
An individual with diabetes however, will not have any symptoms until they have lost vision.  The eye does not get red  (a common worry when people with diabetes wake up with a red eye), there is no pain and there usually is not a gradual change in vision until there are very late changes.  So the time for regular check–ups is from the beginning and at regular intervals!

When should you see an eye specialist*?
If you have type 1 diabetes and are age 15 or over, you should first be assessed by an eye specialist five years after the onset of diabetes if you are age 15 then every 1-2 years depending on the results of the first visit.
If you have type 2 diabetes, you should first be assessed by an expert eye specialist at the time of diagnosis and every 1-2 years after that, depending on the results.
* An initial screening may be done by an ophthalmologist or an optometrist as long as there is a complete dilated eye exam. They may also do a retinal photograph. If there are abnormalities on the exam or photograph the optometrist will refer on to the ophthalmologist.

What is diabetic eye disease?
Like other complications of diabetes, eye disease is a "blood vessel" problem. Initially small "balloons" or microaneurysms develop in the blood vessels. If these bleed, a small dot or blot hemorrhage develops on the surface of the retina (the special surface at the back of the eye that allows us to see).  If left untreated, diabetic eye disease will progress where the blood vessels grow new but very fragile vessels (proliferative eye disease) that bleed easily and will obscure vision. They can also lead to retinal detachment.

What are the risks for getting diabetic eye disease?
Ask yourself these questions:
How long have I had diabetes?  Longer duration of diabetes is a risk for developing eye disease.

How is my A1C?  The biggest risk factor is elevated sugars.

How is my blood pressure?  High blood pressure is a risk factor for eye disease. Aim for less than 130/80.

How is my cholesterol? High cholesterol is a risk factor.

Do I smoke?  Smoking is a risk factor (another reason to quit … see my last blog!)

Do I have protein in my urine? People with protein in their urine are at increased risk of eye disease.

Am I pregnant?  Pregnancy can cause a progression of eye disease.  It is critical to have an eye exam before getting pregnant and in the first few weeks of pregnancy to screen and treat any eye disease that might be present to prevent this from progressing.

What treatments are available?
When retinopathy is more advanced (proliferative), retinal laser surgery is very effective and can reduce the chance of blindness by 90%. This is the main reason for seeing an eye specialist early! As well, there are newer medications now that are injected into the eye that slow down the growth of these new blood vessels and slow down the rate of diabetic eye disease (Lucentis®/Avastin®).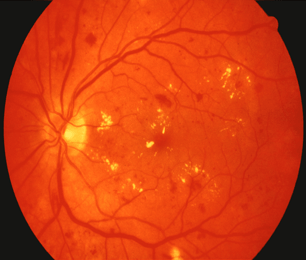 Moderate Diabetic Retinopathy with hemorrhages