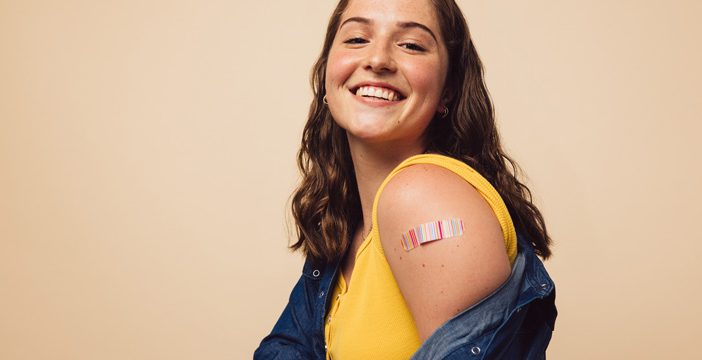 As we head into winter and spend more time indoors, communicable respiratory diseases increase. This is the time to remember how to protect ourselves from some viruses.
This blog was written in November 2022. Information and knowledge about COVID infections and vaccines continue to evolve rapidly. Check provincial or national guidelines to see which vaccines are approved and available for you.
Influenza protection
With COVID still dominating the news these days, it is easy to forget that influenza ('the flu') is still around. Many experts are predicting that after a few years of very little flu activity, due to physical distancing and masking for COVID protection, this may be a big flu year. There is already some evidence that influenza season has started in Canada. Influenza vaccination is recommended for people in any age group (6 months and older) who would like to be protected from serious illness from influenza, but especially for those who are elderly and who have chronic diseases such as diabetes.
Flu vaccines are very safe and effective. Every year vaccines are "matched" to what experts track as the virus strains that evolve from season to season. There is also no reason not to get both COVID-19 and flu vaccinations at the exact same time (the only exception is for children under 5, who are asked to wait 14 days).
People with diabetes have a more difficult time with the flu, as they try to balance food intake, medication and insulin regimens, and changes in physical activity. If you add to this having to be seen in the emergency department, which is potentially stretched thin with others being treated for COVID/flu, it makes sense to protect yourself!
COVID-19 protection
As mentioned above, the knowledge around vaccines is constantly being updated. To be clear, these are the important facts we know now.
COVID vaccines are safe and effective
COVID vaccines substantially reduce the risk of serious disease and death
COVID vaccines may not prevent cases of COVID, and this still may allow you to transmit the virus to others
After the initial 2-shot COVID vaccination, boosters offer further protection to prevent COVID infections and serious outcomes
Having COVID will offer some protection from re-infection, but vaccination will expand that protection
Unvaccinated people have a much higher risk of hospitalization and death
If you have had your initial immunization shots for COVID, and this is about 85% of the Canadian population, some of you will also have had 1, 2 or even 3 boosters. The good news is that those who have had the primary series of vaccination and at least 1 booster are 3 times less likely to be hospitalized and 5 times less likely to die than people who are unvaccinated. We know that each time a person receives a booster this primes the immune system to recognize the COVID virus and mount a response to prevent serious illness. With the arrival of the Omicron variant, some of the protection offered by the initial vaccination is thought to be less effective as Omicron may evade detection by your immune system.
Newly recommended this fall, are the "bivalent" vaccine boosters. Bivalent means that these vaccines protect against both the original COVID-19 and newer Omicron variants, such as BA.4 and BA.5. The National Advisory Committee on Immunization recommends that people receive the bivalent Omicron-containing mRNA COVID-19 vaccines over the original COVID-19 vaccines for their boosters. There are 3 bivalent vaccines approved in Canada:
Pfizer-BioNTech Original and Omicron BA.4/5
Moderna Original and Omicron BA.1
Moderna Original and Omicron BA.4/5
There is presently no evidence to choose one vaccine over another among these 3 options. Currently, the most common COVID-19 infections appear to be the Omicron BA.4 and BA.5 subvariants. These bivalent vaccines are presently approved for people 12 years and older (Pfizer) and 18 years and older (Moderna).
If you have had COVID, it is suggested that you wait 3 months before your booster to help it be most effective. If you have been previously immunized and boosted, it is generally recommended to wait 6 months for your next booster. In some cases, boosters could be used as early as 3 months. The risk/benefit of waiting longer for a booster depends on your risk of getting COVID and your risk of severe disease. A longer time interval between boosters improves the effectiveness of the immune response; however, if you are more likely to get COVID (exposure to the public, high prevalence of COVID in your community) or have a high risk for getting more severe illness (immune compromised e.g. kidney transplant, diabetes) then it is better to get the booster earlier rather than later. If you have not yet received any vaccines for COVID, it is still recommended that you get the original vaccination strain and then get boosted with the bivalent vaccines.
The bottom line is that we are lucky to live in Canada where vaccination for both influenza and COVID is easily available and covered by our healthcare system. Do your part to protect yourself and those around you by getting vaccinated!