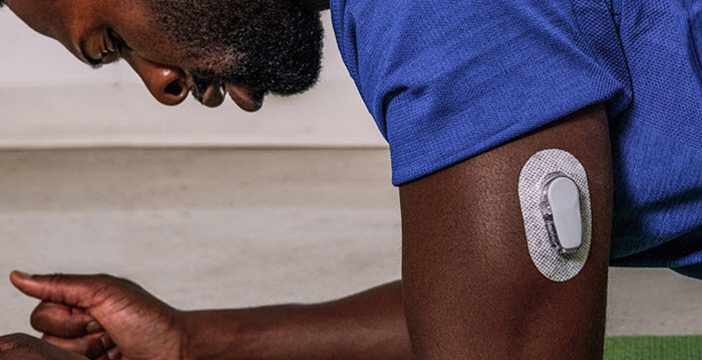 Many people are drawn to using continuous glucose monitoring (CGM) systems – either real-time CGM (rtCGM) systems such as Dexcom G6 or Medtronic Guardian Connect, or intermittently scanned CGM (isCGM) systems such as Abbott Freestyle Libre (previously known as flash glucose monitoring), simply because they no longer need to perform routine finger pokes*. Although it is true that CGM can help you escape from the pain, mess, and inconvenience of traditional blood glucose monitoring, there are many more advantages to CGM use.
The first major benefit is the ability to 'fill in the blanks,' i.e., see at-a-glance glucose levels without the need for routine invasive finger pokes*. For many people living with diabetes, being able to see an arrow indicating if glucose is dropping or rising, as well as a line that shows their glucose levels over the last few hours, has been a real breakthrough in diabetes-related technology. These advances make it easier to manage diabetes successfully.
Another advantage is that CGM systems can automatically create reports to identify patterns in glucose readings. The reports can be used by people with diabetes and their health care providers to make decisions that can help improve glucose levels. For example, a report might show a pattern of high glucose after lunch. Some options to consider might be to change the type or amount of food at lunch, add an after-lunch walk, or perhaps adjust a medication.
Is there more to CGM than convenience?
Beyond the convenience of 'glucose levels at a glance' with no routine fingersticks*, and easy-to-read reports, researchers have studied CGM systems to find out if they make a difference in outcomes for people with type 1 and type 2 diabetes.
Studies aim to see if using rtCGM or isCGM can lower A1C (a measure of your average glucose over the last 3 months), increase the number of hours per day spent with glucose between 3.9 and 10 mmol/L (this is known as 'time in range'), decrease the amount of time spent with low or high glucose (less than 3.9 mmol/L or more than 10 mmol/L), and improve satisfaction with diabetes management and quality of life.
Researchers have also studied the use of rtCGM systems in people who have had a recent very low glucose event to see if rtCGM with automated readings and alerts could reduce their risk for further events. Not surprisingly, it did!
What does Diabetes Canada say about CGM?
Let's look at the recommendations regarding CGM from the 2021 Diabetes Canada clinical practice guidelines. It is important to remember that while there can be very good ideas and experiences with the use of isCGM or rtCGM, Diabetes Canada is only able to provide recommendations if there is solid evidence to support the use of these systems.
This doesn't mean that other ideas and experiences are not valuable, it just means that unless there is current evidence from well-designed studies, Diabetes Canada cannot recommend with confidence that use of a system is likely to lead to improvements such as higher time in range or less low glucose events.
For example, a study with many participants in which half are randomly chosen to use blood glucose meters and the other half to use a CGM system for 6 months, provides more confidence in the results than a smaller study where participants receive only one type of treatment for 2 months. In general, bigger trials that last longer, compare at least two ways of managing diabetes, and randomly assign participants to each group, are considered well-designed and provide the strongest evidence.
The first thing to know is that all the recommendations from the Diabetes Canada guidelines are for adults and children living with type 1 diabetes and for adults with type 2 diabetes using both basal and mealtime insulin.
Where is the strongest evidence and therefore the strongest recommendation for CGM?
Any recommendation in the guidelines that contains the word "should" means the evidence is strong, there is confidence that on average there will be a positive effect, and the recommendation "should" be followed. When the recommendation contains the word "may", the evidence is not as strong. The recommendation "may" be followed, however, there is less confidence on average that there will be a positive effect. So, what do the recommendations say?
CGM and type 1 diabetes – recommendations
The recommendations for people with type 1 diabetes who are using either basal and mealtime insulin injections or an insulin pump, are as follows:
In children, teens, and adults rtCGM should be used to reduce A1C, increase time in range, and reduce the frequency and length of low glucose events, in adults to improve diabetes-related quality of life, and in adults using an insulin pump to increase satisfaction with diabetes treatment.
In adults who are not able to recognize when they have low glucose or have had a recent very low glucose event, rtCGM should be used to reduce the number of low and very low glucose events, and is recommended, based on the current evidence, over isCGM, to reduce time with low glucose.
isCGM may be used to increase time in range with stronger evidence for adults than children, and in adults to reduce the frequency and length of low glucose events and increase satisfaction with treatment.
CGM and type 2 diabetes – recommendations
The recommendations for people with type 2 diabetes who are using basal and mealtime insulin are as follows:
In adults, rtCGM may be used to reduce A1C and the length of low glucose events.
In adults, isCGM may be used to reduce the frequency and length of low glucose events.
It is important to note CGM devices must be worn consistently. If they are worn only occasionally, the same benefits likely will not be achieved.
CGM is more than just not having to routinely poke your finger!
Here are some questions to ask yourself:
Are you using insulin?
Are you having difficulty managing your glucose (e.g. A1C not at your target, many high and low glucose events)?
Do you have trouble recognizing when your glucose is low?
Have you had an episode of very low blood glucose (less than 3.1 mmol/L)?
Are you tired of routinely poking your finger to know your glucose?
If you answered "yes" to any of the above, talk to your diabetes healthcare team about whether CGM may be of benefit to you.