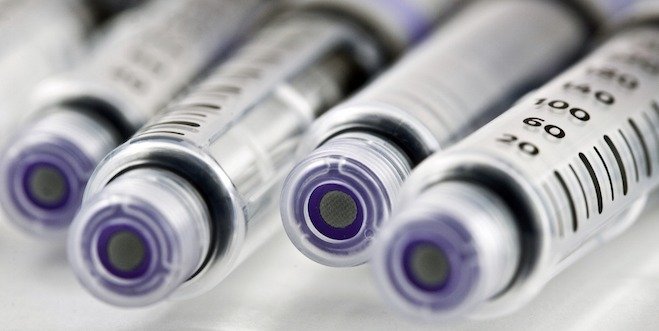 People with type 1 diabetes have absolutely no pancreatic function, so their bodies are unable to make insulin. That's why they must take insulin every day. This is different from people who have type 2 diabetes, when the pancreas does not produce enough insulin, or the body cannot use the insulin it makes.
(For more information about type 1 diabetes, click here.)
There are a number of insulin types and delivery methods for people with type 1 diabetes. We'll review them in this article.
What are the different types of insulin?
Bolus insulin is designed to be taken specifically at meal times to keep blood glucose levels under control following a meal. Because bolus insulin needs to act quickly, over a relatively brief period of time, it will be short-acting insulin or rapid-acting insulin.
Basal insulin keeps your blood glucose levels at consistent levels during periods of fasting. (Fasting is when you haven't eaten or had any liquids for about eight hours.) When fasting, the body steadily releases glucose into the blood to keep our cells supplied with energy. So, basal insulin is needed to control blood glucose levels during this time, and to allow the cells to take in glucose for energy. Basal insulin is usually taken either once or twice per day, depending on the type of insulin that you have been prescribed. Because basal insulin needs to act over a fairly long period of time, it will be either long-acting insulin or intermediate-acting insulin.
Pre-mixed insulin is a combination of short-acting (bolus) and intermediate-acting (basal) insulin in one dose.
The table below describes the types of bolus, basal and premixed insulins that are available in Canada, and how they work. Your doctor will determine the type that is best for you.
Type of insulin
How quickly does it start working?
When is it most effective?
How long does it work?
When should
it be taken?
Bolus insulins
Rapid-acting

Apidra®, Humalog®, NovoRapid®

10 to 15 minutes
1 to 2 hours
3 to 5 hours
With 1 or more meals per day

Should be injected no more than 15 minutes before or after a meal

Short-acting

Humulin-R®, Toronto®

30 minutes
2 to 3 hours
6.5 hours
With one or more meals per day

Should be injected 30 to 45 minutes before the start of a meal

Basal insulins
Intermediate-acting Humulin-N®, NPH
1 to 3 hours
5 to 8 hours
Up to 18 hours
Often started once daily at bedtime

May be injected either once or twice daily

Long-acting

Lantus® Levemir® Basaglar®

Toujeo®*

90 minutes
Lantus: Up to 24 hours

Levemir: 16 to 24 hours

Often started once daily at bedtime

Levemir may be injected either once or twice daily

Premixed insulins
Premixed regular insulin

Humulin® 30/70, Novolin® ge 30/70, 40/60, 50/50

Varies according to types of insulin in the mixture
See above for information about peak actions based on insulin contained
With one or more meals per day

Should be injected 30 to 45 minutes before the start of a meal

Premixed insulin analogues

NovoMix® 30, Humalog® Mix 25, Humalog® Mix 50

With one or more meals per day

Should be injected no more than 15 minutes before or after a meal
*Concentrated insulin, 300 m/mL
How is insulin administered?
Insulin can be injected with a needle and syringe, an insulin pen or a pump.
Subcutaneous injection (subcutaneous means "under the skin") is the route used for insulin delivery, and this is done most commonly using an insulin pen. Pens offer an easy way to deliver an exact dose, and they can be either reusable or disposable. Insulin pens are loaded with a cartridge that contains insulin. They are convenient, easy to carry, and ensure accurate dosing. You will need a separate insulin pen for each type of insulin you use. A needle tip is added.
Although there is a small amount of pain associated with injecting insulin, these days needles are smaller than ever and have special coatings to make injection as pain-free as possible. Another factor is the gauge of the needle, which can be adjusted for comfort. Your diabetes healthcare team can help you determine which needle length and gauge are best for you.
Some people use a syringe and needle with a reusable vial of insulin. The volume of the syringe is based upon the dosage of insulin being injected; for example, people who have higher insulin requirements will use a larger syringe. As there is more chance of dosing errors with this method, insulin pens have become the preferred method of insulin administration in Canada.
Insulin pumps are a safe and effective way to deliver insulin, and are most often used by people who need multiple injections of insulin to manage their diabetes. The insulin pump device involves a small plastic tube, which is inserted under the skin, and a pump, which is about the size of a pager, that is worn outside the body. The pump can be fastened onto a belt, or the waistband of a skirt or trousers.
For more information about injecting insulin, click here.