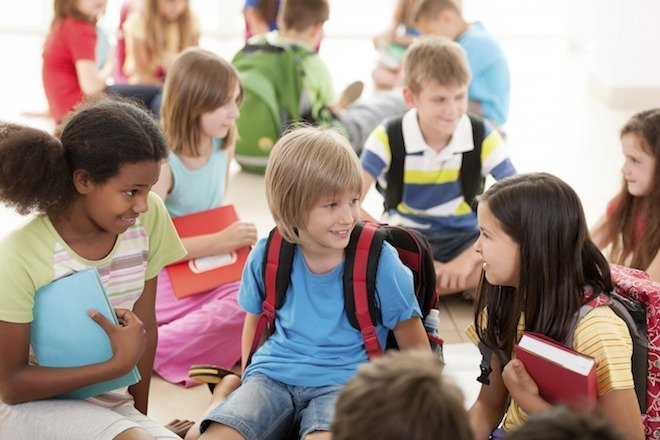 When adults are diagnosed with type 1 diabetes, it is their right to decide who to tell. It is usually recommended to tell people with whom you spend a lot of time, such as workplace colleagues. If hypoglycemia occurs, it will be important for those around you to recognize what is happening and respond appropriately.  It is obvious that telling friends about a diagnosis of type 1 diabetes will need to take place.  However, ultimately it is the decision of the person with diabetes.
When a child is diagnosed with type 1 diabetes, the situation is a little different. Your child may be shocked by the diagnosis, and may want to keep the news from everyone at first. However, you have a responsibility as a parent to keep your child safe and healthy. This means informing the adults who care for your child when you are not around. For example, adult family members, babysitters, and teachers, etc.
Have a conversation with your child about other people who may need to know. In the early days, your child may not want you to tell your friends or neighbours. This can be tough when you feel the need yourself for emotional support, but try to use your good judgment.
At first, your child may also want to keep the news from classmates and friends. Again, try to balance your child's wishes with your responsibility as a parent. If your child is going on a play-date to a friend's home, it will be important to inform the child's parent about the diabetes. Also, point out to your child that people who spend much time with your child – including their classmates – will need to know why they are checking blood glucose levels or injecting insulin.
Tips on What to Say to People
Help to coach your child and talk about the possible reactions people may have. It is usually best to share the news in a simple and straightforward manner, avoiding over-dramatization.
Make it clear that everything is OK. Your child is managing the diabetes and is not sick. There are lots of kids in Canada with type 1 diabetes, and they live each day like other kids.
Many people will be curious about the difference between type 1 and type 2 diabetes, and may wonder why your child has the condition. Consider getting educational materials from the healthcare team to give to people who spend much time with your child. Explain that there are no ways to prevent type 1 diabetes. There is nothing that could have been done to avoid it.
Your child may also need to reassure classmates that diabetes is not contagious. No one can "catch" diabetes from your child.
Talking to Adults
When you tell adults about the diagnosis, adults are likely to be very concerned for your child. Again, reassure them that your child isn't sick and is managing the diabetes successfully. Explain that, more than anything else, your child needs to be viewed just like any other kid – not as a kid with diabetes.
Talk to your healthcare team about the information your child's teachers need to have. They will be able to provide you with resources, such as the 'Kids With Diabetes in Your Care' from Diabetes Canada.