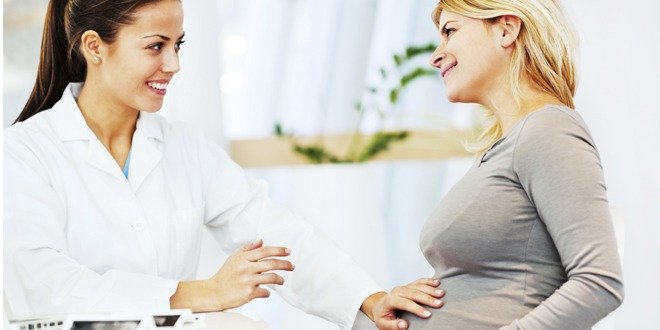 Pregnancy can present challenges for any woman. However, managing pregnancy and type 1 diabetes can add additional challenges, and therefore result in new stressors in a woman's life. The main challenge, of course, is to deliver a healthy baby. So, it is important to plan ahead by at least three months – with the help of your healthcare team – so that you're ready to manage your diabetes optimally as you proceed through the pregnancy.
Planning in conjunction with your health care team is vital, because most women do not know that they're pregnant until 5 or 6 weeks into their pregnancy. During this time, the fetus' organs and spinal cord are developing and ideal blood glucose control is important to reduce the baby's risk for birth defects. The rates of spontaneous abortion and still birth are similar in women who have diabetes and those who do not; however, the rates are higher in women whose diabetes is poorly controlled.
Ensuring that your blood glucose levels are within their target range will lessen the chance of problems for your baby, including being born too early, being too large, or having breathing problems or low blood glucose levels immediately after birth. Consistently high blood glucose levels in pregnant woman can also lead to eye problems, heart disease and kidney disease.
For all of these reasons, it is best to start working on the following goals about three months before conception, so that you become used to caring for yourself. This will make the routine easier to follow during your pregnancy.
Achieve an A1C below 7%.
Ensure that fasting blood glucose levels are between 4.0 and 7.0 mmol/L, and that blood glucose levels two hours after a meal are between 5.0 and 8.0 mmol/L, in order to meet your A1C target.
Enlist the support and assistance of your healthcare team; your team should include an endocrinologist, nurse, dietitian and social worker, who will all provide much-needed support as your prepares to become pregnant and during your pregnancy.
I have worked with a number of women living with type 1 diabetes during their pregnancies. From this experience, I will outline some of the stressors they shared with me, and the tools they found helpful to manage these stressors.
Stressors
Women with type 1 diabetes can sometimes feel they're on an emotional roller coaster both before and during pregnancy. Some of the emotions they feel are:
Anger about with living with type 1 diabetes and the need to closely monitor blood sugar, diet and exercise.
Fear and guilt that the baby will be affected if they don't take care of themselves during pregnancy.
Fear of delivering a larger baby and the possible complications that can ensue: delivering a baby greater than 9 pounds (4 kg) may lead to birth injuries.
Frustration that, despite their best efforts, their glucose levels are never within range. This leads some women to not check their blood glucose as often as they should, which can be detrimental to their diabetes management. There are a number of reasons why blood glucose levels are not at target during pregnancy, including hormonal changes, stress, and the ability to undertake exercise activities and food intake. During pregnancy, a number of changes occur in your body, which can affect how you manage your diabetes. Even if you've had diabetes for many years, you may need to change your medication, meal plan and physical activity routine frequently as your delivery date approaches.
Fear of increased insulin injections, and their effect on the baby.
The increased cost of insulin and diabetes supplies.
Re-learning and/or continuing the regimen of managing diabetes, including monitoring blood sugar levels, eating healthy meals and exercising.
Feeling you are being watched or judged by others as they comment on your food choices or lifestyle.
Attending medical appointments, including obstetrician and endocrinology appointments, plus obtaining regular blood work so that blood sugar levels are best regulated.
The demands of work and home life.
The concerned partner.
Coping strategies to manage stressors
To aid in your diabetes management during pregnancy, support from your diabetes health care team can be incredibly helpful:

Your nurse can help you if you have any questions or concerns about your blood glucose readings, and can assist with insulin titration. She or he can also consult with your endocrinologist to answer any other medical questions.
Your dietitian can help with your blood glucose control as it relates to nutrition. The well-known phrase, "You're eating for two" doesn't pertain to the quantity of food you eat; rather, it's about the healthy food choices that you make.
Your social worker can help with support in the form of psychotherapy, which may include providing information and teaching new coping strategies, such as mindfulness-based stress reduction and cognitive behavioural therapy skills to assist with managing the emotional roller coaster ride.
To assist with costs, your social worker or another member of your diabetes healthcare team can assist in determining if you are eligible for compassionate insulin and other diabetes supplies, and/or obtain Canadian Diabetes Association monitoring program coverage for blood glucose testing strips, as well as assist with an application to the Ontario Trillium Drug Program, which can continue after the baby is born. She or he can also provide information about other sources of financial medical coverage to help cover the increased costs of diabetes supplies and medication.
It is very helpful to be able to talk with your partner and other family members, who will be understanding and supportive. Your partner can also attend your sessions with the diabetes healthcare team to help understand how best he or she can provide support during your pregnancy.
Due to the increased medical appointments, you may experience conflict at work. To decrease this stressor, your endocrinologist or obstetrician can write a letter stating the reasons for missing work due to attending these appointments.
During the last month or two of pregnancy, you may feel very uncomfortable and find it difficult to work. At this time, another doctor's letter may be needed to request a medical leave from work. This can be beneficial if your employer offers sick leave from work. If this is not the case in your workplace, you can apply for medical coverage from Employment Insurance to determine if you qualify for this coverage.
Try to eliminate beverages that contain caffeine, such as coffee, pop and caffeinated teas. Caffeine may affect your blood sugar levels, and it can also increase feelings of anxiety.
Learn relaxation techniques (for example, slow deep breathing exercise) or join yoga classes for mothers-to-be. If you do not have time to attend classes, check out You Tube videos.
When your diabetes management becomes overwhelming – with all the attention you are paying to cooking healthy foods, administering insulin and other medications, and testing blood sugars – try to be kind to yourself! Take long baths or showers, or go for a walk or a swim.
Learn mindfulness-based stress reduction and cognitive behavioral therapy. These tools will help you stay "in the moment" in time. They can also help you to re-evaluate stressful situations and negative feelings, assist you in changing your behaviour and help you to view life in a more understandable and accepting fashion.
Most importantly, be assured that women with type 1 diabetes are able to have healthy pregnancies and healthy babies.