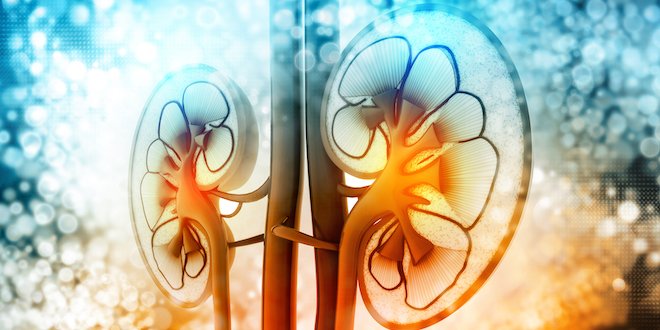 The kidney plays a vital role in removing toxins from the body, while ensuring that the needed elements are retained. For reasons that are not certain, high blood glucose levels cause a build-up of scar tissue in the kidney that prevents it from being able to filter blood in the way that it normally does. This allows toxins to build up in the blood, causing tiredness, weakness and widespread organ injury, particularly to the blood vessels of the heart. In its later stages, the build up of toxins is so severe that dialysis or transplantation is required to keep patients alive.
In an effort to develop new treatments for kidney disease, researchers have discovered that certain types of stem cell from the bone marrow, called endothelial progenitor cells (EPCs), prevent fibrosis in the kidneys (fibrosis is the thickening and scarring of connective tissues). In studies on animals, EPCs were shown to actually prevent kidney disease. What seems to go wrong in people with diabetes is that the number of these anti-scarring EPCs is reduced substantially.
While EPCs have been used in clinical trials for coronary artery disease for more than 10 years and are very safe, their use in diabetic kidney disease has never been studied. Fortunately, thanks to a recent grant from the Canadian Institutes of Health Research, researchers now have the opportunity to see if EPCs can be used to prevent kidney failure in patients with advanced diabetic kidney disease. The DIRECT (Diabetes Renal Cell Therapy) study will use a patient's own EPCs, to avoid any issue with rejection. The cells can then be grown in test tubes so that there will be many more of them before they are injected back in to the patient.
Two Canadian centres will be involved in the study: St. Michael's Hospital in Toronto and the Ottawa Hospital. Both of these hospitals are able to harvest EPCs, grow them and infuse them back into a patient's body. While the laboratory side of the process is complicated and conducted carefully to ensure that it is safe, the patient side of things is relatively straightforward. The EPCs can be obtained from circulating blood cells: all that is required from the patient's point of view is sitting in a chair with an intravenous line for a few hours. Returning the cells after they've grown also requires sitting with an intravenous line, but can be done even more quickly.
To assess whether the EPCs are working, kidney function will be measured regularly over a period of 12 months. With frequent measurements of kidney function, the researchers will be able to determine whether the EPCs slow, stop or even reverse the progression of diabetic kidney disease in patients who might otherwise be facing the prospect of dialysis in the not-too-distant future.
Stay tuned for the results of this exciting research initiative!