All Blood glucose monitoring
Accu-Chek® Aviva
OneTouch® Verio® IQ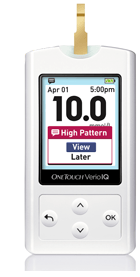 Features and Benefits
Illuminated testing area lets you review results, even in the dark.
Colour LCD screen with large easy-to-read numbers.
Automatically* notifies you of repeated highs and lows right on-screen.
No manual coding.
*The meter uses results tagged as "before meal" to find high patterns. Tagging is not necessary to find low patterns.
CONTOUR® Test Strips
Abbott® FreeStyle InsuLinx™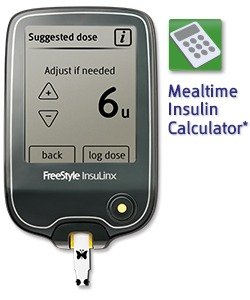 Mealtime insulin calculator* gives individualized insulin dose suggestions
Automated logbook shows logged insulin dose and glucose reading
Touch screen meter designed for ease of use
Meter reminders and alarm remind when to test, when to take insulin and other alarms
Weekly messages help identify patterns in blood glucose results
Compatible with FreeStyle Lite® test strips with ZipWik™ tabs
*The setup of the rapid-acting insulin calculator requires an access code only available to health care professionals. Abbott Diabetes Care provides the code to health care professionals only. The Freestyle InsuLinx calculator feature is only for use to calculate rapid-acting insulin dosing. It is NOT for use to calculate long-acting (background) insulin dosing. This feature requires an understanding of the use of insulin and patients need advice from a health care professional before use. The information provided is not intended to be used for medical diagnosis or treatment or as a substitute for professional medical advice.
Nova Max® Link
NovaMax Link
OneTouch® UltraMini® Meter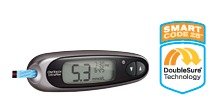 Small & Portable

Just the right size to fit in your pocket or purse

Fast & Easy

Accurate results in just 5 seconds
Large, easy to read display
Accu-Chek® Aviva Nano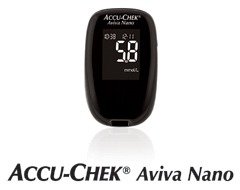 Features and Benefits
Small, bright and fits into your life
Small & Sleek design
Brilliant backlit display: test day or night
Track progress and patterns
OneTouchVerio Flex™ meter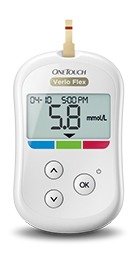 Product features
ColourSure™ technology instantly shows when your blood glucose results are in or out of range
Takes the guesswork out of your numbers
Compact, slim design so it's easy to take on the go
Easy to use with simple 2-step testing
Provides accuracy you can rely on
Wirelessly connects with the OneTouch Reveal® mobile app
Learn More:
www.onetouch.ca/offers
www.onetouch.ca/verioflexmeter
Nova Max® Glucose Test Strips
Novamax Glucose Test Strips
MiniMed® Paradigm® Veo™ Insulin Pump and Continuous Glucose Monitoring System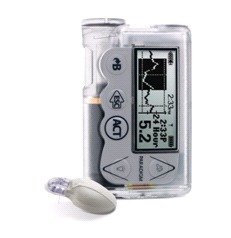 Features and Benefits
Insulin pump integrated with Continuous Glucose Monitoring (CGM). A CGM Starter Kit is included with every new MiniMed® Veo™ Insulin Pump*.
Predictive Alerts prompts you to take action if your glucose is trending out of your target zone
Low Glucose Suspend helps prevent hypoglycemia by stopping insulin flow automatically if you reach a preset glucose level. LGS has been clinically proven to help reduce lows1.
Missed Meal Bolus Reminder Helps prevent post-meal highs
Reservoir two sizes for different insulin needs
Stores all information even when you change the battery to help ensure accurate bolus calculation
Web-based Software Easy to access and share with your healthcare team
Education and Support:24/7 Product Support, myLearning online interactive and animated learning modules
* Starting September 4, 2013. Please contact Medtronic of Canada for more details at 1.866.444.4649.
OneTouch® Delica® Lancing Device
OneTouch® Delica Lancing Device