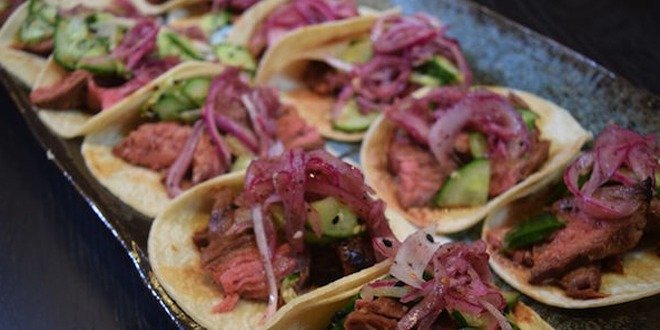 I love tacos and I love Korean flavors.  This combination is irresistible and a fantastic easy summer entertaining dish!    Both skirt steak and flank steak need a long marinating time and need to be sliced super thin once cooked.  The sumac in the pickled onion adds a fantastic red color and sour flavor that goes really nicely in the tacos.  You can buy sumac in a ground powder form in a specialty shop.  It comes from the sumac bush found in the Middle East. The berry is dried and ground, and it has a lemony flavor.
INGREDIENTS
1 skirt steak or flank steak (2lb/32 oz)
12 small corn tortillas
1 avocado, peeled and flesh diced
STEAK MARINADE
1 bunch green onions, white parts only or ½ a small onion
⅓ cup toasted sesame seeds
3 cloves garlic
1-inch piece of fresh ginger, washed (no need to peel)
¼ cup low sodium tamari or soy sauce
¼ cup toasted sesame oil
3 tbsp mirin (rice wine)
CUCUMBER SALAD
1 English cucumber
¼ cup rice vinegar
1 tsp sesame oil
1 tbsp toasted black and white sesame seeds
SUMAC PICKLED ONIONS
½ red onion, very finely sliced
2 tbsp red wine vinegar
1 tsp sumac
DIRECTIONS
Blend all the marinade ingredients together in a blender or food processor, leave a little texture.
Place in a zip top bag, place steak in the bag. Marinate overnight or up to 2 days.
When ready to grill…
Remove meat from fridge for 1 hour before grilling
To make the Cucumber Salad: Slice the cucumber in half in the width so that it is easier to handle, take each half and slice into half or quarters in the length. Now slice into thin pieces, I do this on a slicer so I get super thin slices.  Place slices in a medium sized mixing bowl.  Drizzle the vinegar and oil over the cucumbers, mix and toss together very well.  Sprinkle with sesame seeds, and toss.  Let marinate at room temp for about 30 minutes or longer before serving.  Toss again before serving.
To make the Sumac Pickled Onions: mix the onions in a medium bowl with the red wine vinegar and sumac.  Mix well and let sit for 30 minutes or so.
Turn your BBQ to high for 10-15 minutes. Once the grill is hot, turn it down to medium.
Remove the steak from the marinade and shake off excess.
Place the meat on the grill. Cover the grill and cook the steak for about 4 minutes, flip and repeat.
Allow steaks to "rest" (lightly covered in foil) on cutting board for 10 minutes before slicing.
Slice thinly on an angle, serve a few pieces on soft corn tortillas, topped with Cucumber Salad, Sumac Pickled Onions and cubed avocado.
Serves 6