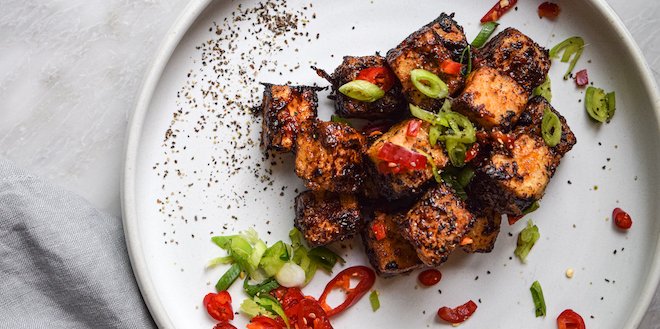 Tofu is the perfect vehicle for any flavour to shine on.  This dish makes for a fun pass around appetizer. Serve the bites skewered with a toothpick at your next cocktail party.  Or if you want to get fancy, you can pass it served in individual serving spoons.
If you want to make a meal out of this, try making a side of soba noodles with it. They will soak up all the pan juices from the tofu, making for a perfect dinner. Cut the tofu in large cubes so that the centre stays pillowy and soft while the outside gets crispy and delicious. I have made this exact recipe with scallops or shrimp, always delicious. I haven't done so, but I'm sure chicken strips would be fabulous too.
ingredients
1 package (about 400grams) of firm or extra firm tofu
½ cup cornstarch
3 tbsp canola oil, divided
3 cloves garlic, minced
1½ tsp minced fresh ginger
2 tsp dark brown sugar
3 tbsp low sodium tamari
1½ tbsp mirin or cooking sherry
2 small green onions, chopped in small rounds
1 long red chili, chopped in small rounds (or a bird chili)
1½ tsp freshly ground black pepper
directions
Cut the tofu into large cubes (about 1-inch), about 32 cubes per package. Lay the cubes on a paper towel and let them dry a bit. Toss them in the cornstarch, shaking off excess.
Heat a large fry pan. Heat half the oil until the oil is shimmering. Add half the tofu to the pan. Let it cook undisturbed until the first side is golden brown, then flip, brown second side, and repeat until most sides are brown. Remove from pan to a plate. Add the rest of the oil and remainder of the tofu and repeat with second batch, remove.
Add garlic and ginger to the pan and cook until fragrant, less than one minute. Sprinkle brown sugar into the pan, toss quickly for 30 seconds or so. Add the tamari and mirin, allow to bubble and reduce for a minute.
Add back the tofu cubes and carefully toss with liquid in the pan. Shut the heat off and continue tossing until well coated.
Sprinkle with green onion, chilies and pepper.