Animas® Vibe® insulin pump with integrated Dexcom G4® PLATINUM CGM technology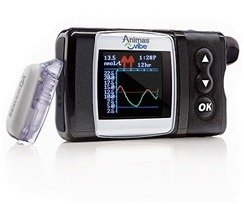 Product Description
Features and Benefits
The Animas® Vibe® insulin pump with integrated Dexcom G4® PLATINUM CGM technology gives you instant insight to help you quickly and easily adjust insulin based on your body's immediate needs.
An accurate sensor you can trust. Providing you with the exceptional accuracy and consistency you deserve from a reliable sensor.
Longest sensor wear. Animas® Vibe® is the only CGM-enabled pump that works with a sensor approved for up to 7 days of wear.
The smallest CGM introducer needle on the market1, in comparison to Medtronic Enlite®.
CGM trends in full colour with colour-coded lines and trend arrows to show where glucose is heading and how fast2.
CGM Data and CGM Trend screens. During an active CGM session, you may view 1-, 3-, 6-, 12-, and 24-hour increments of continuous glucose data on the CGM trend screens, or a snapshot of your current glucose status on the CGM data screen†.
Customizable alerts You can't always feel symptoms when you're going high or going low, but our customizable high and low alerts let you know. We also have a built-in, non-adjustable hypo safety alert set at 3.1 mmol/L for added peace of mind.
Simplified calibration rules3 Calibrate when it's convenient, as long as your glucose reading is between 2.2 and 22.2 mmol/L.
diasend® web-based diabetes management software that allows you to store, review, and print insulin pump and CGM data on the diasend® website.
† You can also view your Insulin on Board (IOB) right on the CGM Data Screen.
1 Measured as the cross-sectional area of the introducer needle.
2 You must confirm your glucose reading with a fingerstick test before taking action
3 A minimum of 2 calibrations are needed each day, at least every 12 hours, and you must confirm your glucose reading with a fingerstick test before taking action.
Manufacturer Info

Animas Canada