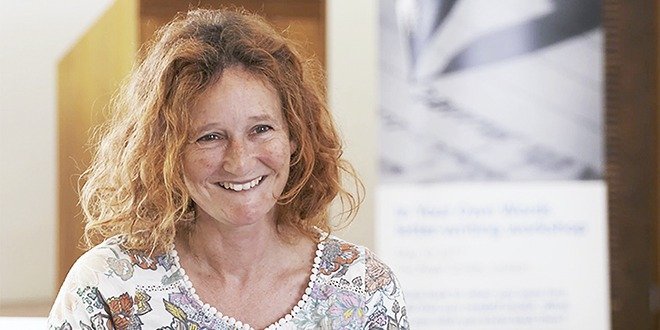 People with type 2 diabetes write back to their younger selves, to share personal insights and reflect on their experience of living with diabetes and starting on insulin therapy. In this post, Sarah reflects on living with diabetes.
A fresh-faced redhead, Sarah at 43 looks exactly like the farm girl she has long wanted to be. "I've always wanted to work with animals, but the opportunity to own sheep and farm animals came only quite recently," she says. She has since learnt to deliver lambs and manage cows on a farmer's set of fields in Bedford, UK, where she lives, while helping out with chickens on another farm.
In addition to enjoying the realisation of her long-held dream, Sarah takes pleasure in knowing that her diabetes is well-controlled enough for her to do the physically demanding work. Still, it wasn't easy to get to that point. She wasn't shocked to be diagnosed with diabetes while in her late 20s and to have to add insulin to her treatment plan at age 32. She had been diagnosed with gestational diabetes while pregnant.
But there were two very different obstacles Sarah did struggle with. Firstly, she was terribly uncomfortable with needles, particularly the springy ones often used for testing glucose levels and taking insulin. The second difficulty seemed to be practically universal: negative assumptions and unhelpful comments about her condition. Upon learning that she had diabetes, people might ask, 'Oh, is it the serious type?' or 'Do you eat all the wrong things?'
On the phone, people, including nurses and dieticians, assumed she was overweight, although in fact Sarah is average weight. Social media, websites and television programmes seemed to magnify the message – that all people with diabetes overeat and need to lose weight. "It was frustrating and infuriating," remembers Sarah. "I walk between three and eight miles a day and eat normally. I couldn't try any harder."
For a while, beginning about four years ago, Sarah began to consume very little, because she felt so guilty about eating. She was also fighting very hard to obtain a special needs statement for her son's education. Around that same time, she faced double calamities: a flood in her house and being laid off from her job. Needless to say, all of this stress was not good for her equanimity or her blood sugar levels. Sarah chose to write to herself at this time, when she was 39.
Dear Sarah
You are terribly worried and unhappy. I don't blame you. You are trying so hard to handle so much and yet none of it seems to be going right. You think that you are solving a problem, the problem of guilt and blood sugar levels, by not eating. But, Sarah, look at you. Now you are underweight. Not eating is not a proper solution.
One thing that will help is to learn to ignore all the unhelpful comments and advice. The next time someone asks you, "Have you tried taking the stairs instead of the lift?" either pay no attention to the question or show them your pedometer. People who don't have diabetes will try to give advice. You can't stop them. But you certainly do not have to respond or listen to them.
Now, the needles. They can bring you to tears. If you are really going to control your blood sugar levels you will have to use needles, but there are some ways to work around your dislike. The first way will surprise you: get a tattoo. You will be so elated with yourself for managing to get a butterfly tattoo. It will give you confidence. A continuous glucose monitor will be another big help. And if you absolutely need to use a needle yourself, you can use a different type so that you can hold it and work very slowly.
Having diabetes will not stop you doing what you want. You end up with your dream job working with animals! And you will enjoy your 'mad life'.
Love,
Sarah
This story has been edited by Ellyn Spragins and shared with support from Novo Nordisk Canada. The views and opinions expressed are not representative of Novo Nordisk, and should not be considered treatment advice. Novo Nordisk has permission to share this letter and included personal details.