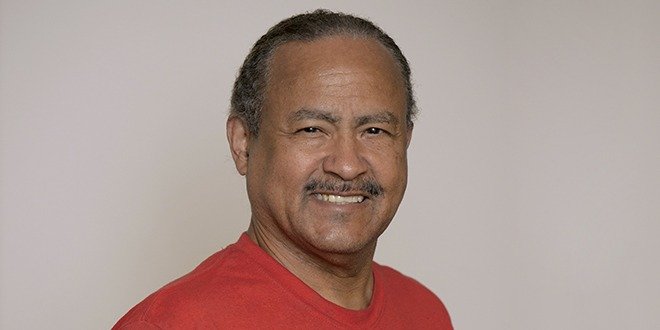 People with type 2 diabetes write back to their younger selves, to share personal insights and reflect on their experience of living with diabetes and starting on insulin therapy. In this post, George reflects on living with diabetes.
If you were to meet George, or Gee, as his friends call him, two characteristics would stand out immediately. He has the physique of someone who's been a fit athlete for much of his life. And he's a people person, outgoing and perceptive. Growing up in Philadelphia, USA, he and his friends were always active, playing baseball and street football. At 11, however, he began gravitating toward boxing, primarily because he wanted to feel strong around some kids in the neighbourhood who taunted him about his mixed black-Italian heritage. "A friend's dad said, 'You have so much energy, why don't you come learn boxing?'" Gee recalls.
A good boxer, Gee learnt, had to be extraordinarily disciplined about his body. At a professional boxer's gym in Philadelphia he was indoctrinated into working out, building strength, nutrition and maintaining body weight. He says: "It put me on a life course. As a boxer, you take care of yourself differently."
After a stint in the Air Force, Gee became a truck driver and also coached middle school sports. For years, he maintained a fit body, despite the erratic schedule and mealtimes. But eventually his weight crept up. When he was 39 he was diagnosed with type 2 diabetes on the Friday before Super Bowl Sunday in 1997. He decided to keep it a secret from almost everyone. Why? The first few relatives he confided in were overeager in handing out advice and chastising him about what he was eating at social gatherings and holiday meals. Particularly irksome: most of them were in much worse physical shape than Gee. And, he admits, he felt a little vain about having been a boxer and athlete. Would people think less of him if they knew?
For the first year after his diagnosis, he was a model diabetes patient. Then at a regular medical visit, George realised that he had misunderstood something crucial. He hadn't comprehended that type 2 diabetes was a chronic, progressive disease. All of his good patient behaviour would not heal him. Then began years of see-saw self-management. George would monitor his eating and exercise regularly for a few months. Then he'd take a piece or two of cake, skip the tablets he'd been prescribed and ignore testing his blood sugar for a while. What's more, he began cancelling doctor's appointments when he knew he hadn't been taking care of himself because he was embarrassed about not adhering to his treatment programme.
In 2007 at age 50, he landed a job in the maintenance department of a nearby school, where he still works today. That's when he decided to lose weight, eventually dropping 22 kilograms. Gee, now 60, is writing to himself in his early 50s.
Dear Gee
You have begun to take care of yourself a little bit better by losing some weight. But honestly, you have a long way to go. I know it's hard. You are surrounded by tremendous cooks. Still, you need to eat better and exercise more.
Your challenge goes beyond diet and working out, though. Your task is accepting that you have diabetes. You really haven't, so far. This is why you are keeping it a secret from many people for as long as possible. You are trying to act like everything is normal, when it is not.
Part of your frustration comes from looking around and seeing that friends and relatives may be in poor shape – they are not the athlete that you are – but they can eat whatever they want. Your blood pressure has never been high. You have never smoked and are only a casual drinker. Yet you, not they, must live with this condition, even though you took such good care of your body.
I'm here to tell you to believe it. The battle to manage your diet, exercise and blood sugar may seem difficult now, but there's an even tougher part that could lie ahead: your doctor's recommendation that you add insulin to your treatment plan. I know what you will think: you must be crazy if you think I'm going to put needles in my arm. No needles will ever enter my body. You will resist because in your mind, needles are connected to drug addiction.
This is a mental roadblock you can clear up right away by going to an insulin class, as your doctor recommends. Whenever you find yourself being reluctant about having to test, eat right or take insulin, find a way to get some education about it. And talk to your friends who have diabetes too. This will help you better understand the importance of being focused every day and feel less embarrassed about having diabetes. Finally, let other people know. You can tell them that it's not their job to be a food cop. Instead of thinking less of you, people might be even more impressed at how responsibly you are eating and exercising.
You want to live life to the fullest. You can do it, Gee. Keep moving, stay ACTIVE.
Gee
This story has been edited by Ellyn Spragins and shared with support from Novo Nordisk Canada. The views and opinions expressed are not representative of Novo Nordisk, and should not be considered treatment advice. Novo Nordisk has permission to share this letter and included personal details.