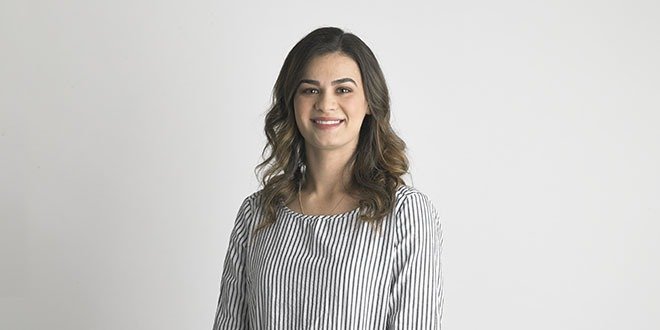 Canadians with type 2 diabetes write back to their younger selves, to share personal insights and reflect on their experience of living with diabetes and starting on insulin therapy. In this post, Ashley reflects on living with diabetes.
Though she is only 27, Ashley has been living with type 1 diabetes for a long time. She was diagnosed on her tenth birthday. Instead of a day filled with anticipation about celebrating with her family after her parents got home from work, Ashley woke up feeling very sick. Her older sister found her crying in the hallway and alerted their mother, and little Ashley was whisked off to the hospital.
"I was so scared. I had never been to the hospital before. I was being pricked, tested and wrapped in blankets," she remembers. "Suddenly the doctor came in to speak with my mom and told her that I have type 1 diabetes. My mom instantly started crying."
Ashley had no idea what type 1 diabetes meant, but she started crying too. Though her life changed dramatically on that day, she credits a very supportive family with helping her to adjust to her condition. As a keen soccer player, she continued to play in a league during most summers, but certainly had many "Why me?" and "It's so unfair!" moments as she grew up with the disease. Now working in sales for an e-commerce company and living with her boyfriend in Toronto, Ashley recognizes that the emotional hurdle of accepting her diagnosis was among the biggest that she had to surmount.
An even larger one, though, was physical – hypoglycemia. She has experienced a handful of frightening episodes, two of which required that she be rushed to the hospital. The first time it happened, she was 22 and still living at home in Oshawa. She had slept late and awoken in a dream-like state. Ashley, whose family nickname is "Bratley," was so out of it that her sister, who was visiting home at the time, assumed that she had been out partying the night before and was still a little drunk.
Then Ashley's boss called, wondering why her normally punctual employee had not shown up for work. The ensuing conversation was so unintelligible that her boss, knowing Ashley has diabetes, figured that something was not right and called an ambulance.
Ashley is writing to herself at this moment, when she is lying on an ambulance stretcher, racing toward a hospital.
Dear Bratley,
You have just been revived and the paramedics have told you what happened. Your blood sugar dropped very low. The last thing you remember is going to bed last night and now the implications of what happened are sinking in.
I know what you are thinking. Could I have died? What would I have done if no one was home to help me? What would have happened if my boss hadn't called?
These thoughts will never leave your mind. Before going to bed you will always be wondering: what if it happens again?
I am writing to prepare you for the struggles that lie ahead. You are going to learn about something called hypoglycemia. You will learn about it by experiencing extreme cases of it. This was the first, and I'm sorry to say there will be more. One time you will be taken to the hospital and told that your blood sugar dropped so low in your sleep that you were almost unconscious.
Because of your fear of another hypoglycemic episode, you'll decide from time to time to run your blood sugar high before going to bed. This seems like a good solution, especially once you move out to your own apartment. After all, who would help you if you were to have another episode? You always worry that maybe one night you won't wake up.
But, Ashley, please don't do that. Running your blood sugar high is going to impact your health in the long run. Work with your doctor to monitor your glucose overnight and change your treatment to prevent the extreme lows you are experiencing at night.
There will come a time when you are ready to start your own family. Naturally, you'll be scared about how your diabetes will impact that process. If you start taking care of yourself now, that won't be an issue.
I will end this by saying that it is okay to be different. You won't be shunned or judged. In fact, instead of hiding it, embrace your condition. It is not going anywhere.
You got this!
Ashley
This story has been edited by Ellyn Spragins and shared with support from Novo Nordisk Canada. The views and opinions expressed are not representative of Novo Nordisk, and should not be considered treatment advice. Novo Nordisk has permission to share this letter and included personal details.