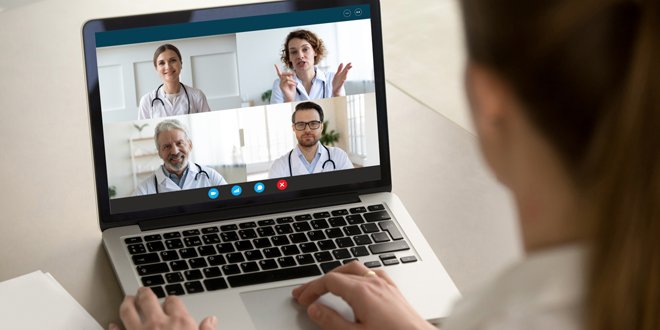 In this second of a four-part series, nurse and Certified Diabetes Educator, Gail MacNeil, discusses 'diabetes management in an era of virtual care' during COVID-19 with endocrinologist, Dr. Alanna Weisman, and nurse Certified Diabetes Educator, Violeta Nikolova.
Here are their insights.
Is it safe to get routine blood tests during this time?
Yes, now is a good time to get blood work done, as the number of cases are decreasing and the risk of infection is lower. We are encouraging patients to book their appointments online to minimize their time in waiting rooms. But labs are well equipped and are using appropriate equipment and social distancing, so patients shouldn't be putting blood work off. In fact, it's probably an ideal time to get tests done before the fall and winter when we may see a resurgence of COVID-19 cases again. If we do see cases increase in the future, we may hold off on lab work. Also, patients who use continuous glucose sensors may not need to do routine bloodwork, so it's a good idea to check with your doctor or diabetes care team before booking a lab appointment.
How can I get a diabetes consultation, and what other support is available?
You can talk to your doctor to be referred to a diabetes specialist and get access to a diabetes education team in your area. There may also be community pharmacists certified in diabetes education who can offer counselling and support in your area. Look for some great online diabetes resources available through sites like Diabetes Care Community and Diabetes Canada too.
All diabetes clinics have to comply with provincial guidelines, so if in doubt about where to go, contact your diabetes care team to find out what is available to you.
Can I still have my routine diabetes checkups during COVID-19?
Most diabetes specialists are still connecting with patients with the same frequency as before, but using the telephone or virtual check-ups. As things continue to re-open, we may see a return to more in-person visits, however, expect that virtual visits will continue as well. While we can't do everything online when it comes to patient assessments, there is a lot we can do, so you'll likely see a combination of both types of appointments in the future. For certain things such as blood pressure monitoring and foot exams, for example, we'll still want in-person visits.
How can I monitor things like blood pressure, or get my feet, teeth or eyes checked?
For blood pressure management, now might be a good time to invest in a home blood pressure monitor. (Check resources such as Hypertension Canada for information on the best, clinically approved home monitors.) As for foot, eye or dental care, it depends on your history and past complications, as well as your level of risk. If you don't feel comfortable going out at this time, perhaps you can delay your visit or do it virtually. Keep in mind that COVID-19 may be here for a while, so for urgent concerns, be sure to contact your healthcare providers. You don't want to delay care and risk future complications. For example, someone with active retinopathy or a foot infection should still be getting an examination. Your healthcare provider will advise on whether it is best for you to be seen in person.
In the meantime, here are some resources for how to care for your feet when you have diabetes.
How can I get help with dietary needs during COVID-19?
You can access a dietitian through your diabetes clinic, some grocery stores and even access a dietitian online. You can also find some good tips on what to eat for a healthy diabetes diet here.
Is emergency non-COVID-19 care available if I need it?
Absolutely! All healthcare providers are stressing the importance of seeking care when you need it. Hospitals are using strict protocols during this time and patients should not be afraid to come into the hospital. We recommend checking on what policies are in place for each healthcare environment in terms of COVID-19 protocols, but certainly don't be fearful of accessing care for non-COVID-19 conditions.
What will the future of diabetes care look like?
Technology will continue to complement face-to-face patient visits. We'll continue to communicate through phone, email, video and other digital means. Protocols such as mandatory personal protective equipment will continue, and so will designated entrance/exits to minimize traffic inside healthcare facilities. We also have to be flexible in terms of how care is delivered. At times we may be doing more in-person visits or we may shift back to more virtual care visits.
How do I prepare for a virtual appointment?
Have all your medical and drug information accessible and ready to share, including your blood sugar levels. Be sure to have your pharmacy contact available in case your provider needs to send in a prescription, as well as contact information for any other healthcare providers in your circle of care. Write down any questions you have so you don't forget to ask.
If possible, download your blood sugar values or take a picture of your log book to send to your provider ahead of time. The same goes for blood pressure readings.
What platforms are being used for virtual care appointments and which one is best?
Phone or video are the most common platforms used. There are advantages and disadvantages to both. Video is useful in being able to see a patient's non-verbal cues and putting a face to a patient, especially for initial consultations. It is also easier to do demonstrations via video.
On the other hand, not all people have access to the technology needed for video calls. The telephone is more accessible, simpler to use and less likely to have technical glitches. However, some of that personal connection that video enables may be lost.
As mentioned above, COVID-19 may be here for a while, so don't delay urgent concerns, and be sure to contact your healthcare providers.