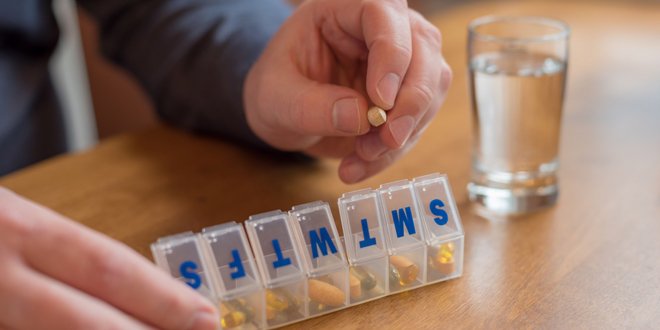 In this third of a four-part series, nurse and Certified Diabetes Educator, Gail MacNeill, discusses medication management during COVID-19 with nurses and Certified Diabetes Educators, Violeta Nikolova and Barbara Cleave, as well as pharmacist and Certified Diabetes Educator, Susie Jin.
Here are their insights.
Is it okay to go into a pharmacy and what are the risks of picking up my medication there?
Rest assured that pharmacies have put safety measures in place to protect you and pharmacy staff. It is safe to go into pharmacies as long as you also practice safety protocols. This means wearing a mask in the pharmacy, social distancing and washing your hands or using hand sanitizer before and after leaving the building.
Some pharmacies are also offering online ordering, curbside pickup and/or delivery. Physicians are now calling or faxing in prescriptions. When you know your prescription is ready, be sure to ask the pharmacy staff about pick-up or delivery options.
In order to minimize the number of times people have to go into a pharmacy, many pharmacies are offering a service, called 'medication synchronization' wherein they set up your medications so that they come due for refills at the same time.  Speak with your pharmacy team to see if they offer this service.
Are there any issues in terms of continued diabetes medication access?
When COVID-19 first started, some provinces were filling prescriptions for just a one-month supply, instead of the usual three months, to prevent shortages of essential medications. At this point, most pharmacies have returned to a three-month refill option. However, it's important to call your pharmacy at least a week before you need refills to ensure the pharmacy has time to order the medication from the supplier if needed, to fax the primary care provider, if needed for refill authorizations, and to source the medications from various suppliers if needed.
Are there any vitamins I should take to help my immune system and to fight the virus?
There are no vitamins to date that have been proven to fight the virus. Although there have been studies that show that there is a strong correlation between severe vitamin D deficiency and mortality rates due to COVID-19, there are no vitamins to date, including vitamin D supplementation, that have been proven to fight the virus. Speak with your pharmacist or healthcare team to see if vitamin D supplementation would be appropriate for you.
Of course, keeping your immune system strong through being a non-smoker, healthy eating, and regular exercise is always important in helping fight infections. Here is some information on herbs that have been shown to help keep you healthy, especially when you have diabetes.
What if I get sick? What are the recommendations for sick day management and medication use if you have COVID-19?
The recommendations are exactly the same as for managing other infections. When you are ill, it is important to follow these 4 steps:
Checking blood sugar (glucose): when you're sick, your blood glucose levels change and become unpredictable. That's why it's important to check your levels more often than usual (e.g. every 2-4 hours and during the night). If you have type 1 diabetes and your levels are consistently above 14 mmol/L and you're having symptoms, you should be checking for ketones as well, with a urine or a blood test.
Hydrating: it's essential to stay hydrated with sugar-free fluids such as electrolytes, water or clear soup. Aim to consume one cup of fluid every hour while you're sick.
Insulin: never stop taking your insulin, even if you're not able to eat solid foods, because you need more insulin when you're sick. You may have to adjust your insulin dose, however, so reach out to your pharmacist or diabetes care team for guidance.
Pills: if you get dehydrated you may need to temporarily stop some of your medications (e.g. some blood pressure, pain, and even blood sugar lowering medications). Be sure to have a printed list of all your medications ready to share with your healthcare provider as needed, and when in doubt be sure to ask.
Are there any medications that should not be used if you develop COVID-19 symptoms (e.g. ibuprofen, acetaminophen)?
Initially there was controversy around the use of ibuprofen and NSAIDs with COVID-19 but that has been debunked. Nonetheless, anyone with diabetes should start with acetaminophen before progressing to ibuprofen. If you do take ibuprofen, be sure to take it with food, and to stay hydrated with plenty of fluids to avoid kidney problems. Ibuprofen should only support people in self-management intermittently and short-term. If ibuprofen is needed more regularly and/or long-term, your health-care team should be involved to assess for appropriateness and to minimize any potential risks to you.
Should I be testing more often during this pandemic?
Yes, as long as you're going to use the numbers to support you in making healthy behaviour choices and management changes (e.g. medication dosing) with the support of your healthcare team. For some, quarantine has impacted food choices and exercise, so information around daily sugar patterns may be needed to make informed decisions about diabetes management. Having a record of your sugar readings over a few weeks for your next virtual diabetes appointment is a good idea too. But checking more often just for the sake of COVID-19 is not necessary.
Where can I get information on using insulin (I just started on it)?
Even though there are fewer in-person physician visits happening now, there are still plenty of people who have started insulin during the COVID-19. Resources like Diabetes Canada and Banting & Best Diabetes Centre have some excellent videos and tools to help answer questions on how to administer insulin.
If you still have specific questions, ask your diabetes healthcare team for answers. It's important to understand when to take your insulin, how long it lasts and when to test your blood sugar to evaluate its effectiveness. Here are some practical tips on how to overcome the fear of giving yourself an insulin injection as well as some insulin best practices.
How do I adjust insulin doses during the pandemic?
If you're new to insulin, you'll get dosing titration instructions specific to you from your healthcare provider. That said, during the pandemic you may need to change your insulin dosing because your routine has changed (e.g. stress, food choices and activity all impact your blood sugar levels).
Some of the new glucose meters make it easier to monitor your sugar and identify patterns that may signal a need to adjust your insulin. But remember, it may be better to consider changing food choices and activity to improve your blood sugar before changing your insulin.
What are the best ways to manage hypoglycemia? How can I prevent lows at night?
Hypoglycemia, or low blood sugar, is a major challenge for people living with diabetes. The first thing is to recognize the signs and symptoms of hypoglycemia, such as trembling, sweating, fatigue and anxiety. (Not all symptoms will be present at the same time and some people may not experience any symptoms at all.)
For mild and moderate hypoglycemia (when blood glucose is less than 4.0 mmol/L), we recommend taking 15 g of carbohydrates (e.g. juice box, glucose tablets) and then to retest your blood sugar after 15 minutes and repeat the process if your levels remain low (below 4mmol/L). When your levels go back to normal (above 4.0 mmol/L), you should eat a regular meal or snack.
Severe hypoglycemia (when you are unconscious) can be treated with a medication called glucagon. It's available via injection or nasal powder for easy use. Ask your doctor or any of your diabetes healthcare team members for more information.
Low blood sugar at night is dangerous. Resolving this may require changes to insulin, food intake or lifestyle. One common strategy is to have a light snack before bedtime (e.g. a glass of milk, crackers and cheese or a slice of bread with peanut butter). Check with your healthcare team to determine the best way to treat this condition for you.
Here are more tips on how to manage low blood sugars overnight.
Will I still need to get my annual flu shot this year?
Yes, it is important to get your flu shot this year, along with any other routine vaccinations. Ask your pharmacist or healthcare provider if you're unsure about the vaccines recommended for you.
What is the status of COVID-19 vaccines?
The good news is that for the first time ever we are seeing collaboration between pharmaceutical companies and research centres in developing a vaccine for COVID-19. Fortunately, there are several companies at different stages of developing a vaccine. Vaccine technologies differ in how they are developed, how they stimulate the immune system to mount a protective response and their immunization schedule. We may get lucky and see more than one COVID-19 vaccine commercially available.  There are many regulatory steps to complete before the vaccine becomes available, including testing for safety and efficacy, but these are all in process.
Are there other vaccines I should consider getting?
Yes, be sure to continue with all routine vaccinations, especially for infants. Getting the flu shot is important. Other vaccines to consider would be the shingles vaccine and immunizations to prevent pneumonia. If you're unsure of which vaccines are recommended for you, contact your healthcare provider for information. Of course, when the COVID-19 vaccine becomes available, that will be recommended too.