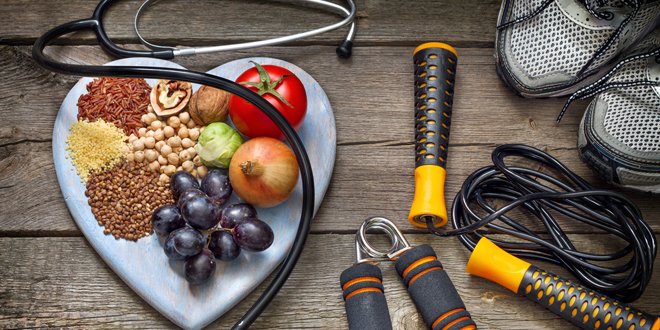 In this last of a four-part series, Nurse and Certified Diabetes Educator, Gail MacNeill, discusses healthy lifestyle habits during COVID-19 with Registered Dietitian, Lauren Rose.
Here are their insights.
What is the easiest and safest way to get access to nutritious food (in person and online)?
There isn't one easiest way to access nutritious food because it depends on your own comfort level. Right now, some people are feeling more comfortable heading to a grocery store than they did at the onset of the pandemic. But others may feel more comfortable ordering online groceries to avoid going out altogether.
When it comes to safety, it's all about taking the precautions we've been taught from the onset. Wear a mask when you're out shopping and wash/disinfect your hands thoroughly after handling food/grocery carts. Safety also extends to the foods themselves, in terms of keeping hot foods hot and cold foods cold. Place cold items in the refrigerator at the right time, wash produce well, and cook foods properly, as needed.
Here's a list of online grocery services.
Is there a risk of shopping in a grocery store and if so, how do you minimize this risk?
Most grocery stores have been great at disinfecting shopping carts and keeping their premises clean. They've also eliminated buffets and other communal areas to minimize the risk of contamination. But you can further protect yourself by wearing a mask which is now mandatory in inside public spaces and following social/physical distancing rules when navigating the store. It also helps to come prepared with a grocery list so you can get in and out as quickly as possible.  As well, decide what you are buying and only pick up that item, to minimize touching many surfaces.
Even with grocery deliveries, you still need to be diligent about safety. Wash your hands after handling packages and be sure to wash all produce thoroughly before eating.
Is there any risk of getting COVID-19 from foods that I purchase? If so, how do you minimize the risk?
There is no evidence supporting contracting COVID-19 from the food itself, but there are still concerns that the virus may be transmitted via surfaces.  That's why washing your produce and your hands is so important—and the best way to minimize your risk.
Is it better to buy packaged fresh food (e.g. apples) instead of picking it yourself to reduce the risk of infection?
There is no evidence on the benefits of one over the other as even packaged foods have been handled by someone before you. The key is to thoroughly wash all produce before consuming—and wash your hands too.
Do I need to stock up on foods because of COVID-19?
Our food supply is pretty safe now, so there's no need to stockpile. Instead, think about what you already have in your pantry, what you can afford to buy, and if you have the storage space for more. As a general rule, it's wise to stock up on two week's worth of groceries in case you do have to quarantine at any point in the future. In the meantime, get creative with the food you already have in your pantry to avoid waste.
Here are some tips on how to stock a diabetes-friendly pantry as well as the best way to stock up on healthy foods.
Is there any kind of support for someone living alone in terms of grocery shopping?
There are plenty of grocery delivery services to help people who can't get out to a grocery store. Plus, there are several reputable online resources, such as unlockfood.ca, with information on nutrition and healthy eating. Check out your local public health units for resources on where to access nutritious foods if you're struggling.
I find it hard to keep my weight down during COVID-19. Do you have any suggestions?
If you were already working on weight loss goals before COVID-19 hit, it's a good idea to try to maintain your healthy behaviours and stay on track.  However, this may not be the best time to embark on a brand-new weight-loss or exercise program because of the current restrictions and barriers in place (e.g. gyms and other fitness centres are still closed in many areas), in addition to the emotional stressors that may be barriers to making changes.
That said, it is a good time to practice mindful eating. Take note of real hunger cues so you can make healthy eating choices as often as possible. Remember that it is just as important to focus on preventing weight gain as it is to celebrate the losses. Talk to your healthcare team for suggestions on what you can be doing to better manage your weight. Here's some information on how to get motivated to tackle excess weight.
When stressed I turn to comfort foods (high carbs). What can I do to avoid this?
Nobody should try and eat perfectly 100% of the time because that's rarely sustainable. Instead, practice the 80/20 rule and ensure you are making healthy food choices the majority (80%) of the time. Also, be sure to evaluate if you really are hungry or whether it's an emotional hunger craving that may be managed with some self-nurturing. Instead of reaching for a snack, assess your hunger, try going for a walk, meditating or taking deep breaths to help distract from cravings.
Giving yourself permission to indulge a little bit from time to time is important too. Be kind to yourself as this is a hard time for many people. Food is supposed to be enjoyed!
How much exercise is enough?  And any recommendations on meeting exercise goals when isolating or the weather is not suitable to go outside?
Plan time to stay active and be consistent with small, achievable goals. Treat exercise like a medication prescription or doctor's appointment—it's only going to work if you do it regularly and don't miss the opportunity to get moving. If you can't go outside, consider doing some indoor stretches, stair climbing or an online exercise video.
Keep in mind that this is not the time to run a marathon. Create realistic, manageable goals for yourself that you can maintain during these pandemic times. Here are some physical activity ideas for when you're stuck indoors.
How much walking should I do in a day?
Ten thousand steps a day is a general good guideline.  Recommendations suggest 30 minutes of activity at least 5 days per week.  If you're already doing that, try and push yourself to do a little more. But if you're only getting in a thousand steps a day, for example, increasing that by a thousand or more is a great step forward. Be active but also realistic about what is manageable for you during this time. Work on doing more than you are currently able to do.
Any recommendations for building up strength after being ill for weeks? How do you keep motivated for following a healthy diet and exercise routine during COVID-19?
Always start slow and be sure to speak to your healthcare provider about the kinds of activities that are suitable for you as you return to health. Make sure you stay hydrated at all times, but not with sugary drinks which can elevate blood sugar. Start with small, balanced and frequent meals as your appetite allows. Well-balanced meals will help improve your energy levels too.
How do foods affect my blood sugar?
Foods can have varying impacts on blood sugars. We know that foods that contain carbohydrates (starchy foods such as grains, potatoes, rice, pasta, breads, fruits, some vegetables and some dairy) can all impact blood sugar levels. Eating regularly throughout the day, not skipping meals, and maintaining consistency with your intake can help you manage your blood sugars.  Learning how your own diet impacts you is one of the keys to diabetes self-management.
Here are some tips on how to understand sugar content on food labels.
Any specific foods to keep my blood sugar down that are not too expensive?
It's always a good idea to add vegetables to your meals and snacks because they contain less carbohydrate and should not have a big impact on your blood sugar, but they are loaded with nutrients. Frozen vegetables can be cheaper and just as nutritious as fresh. Find creative ways to add more vegetables to your meals. It could be something as simple as adding lettuce and tomato to your sandwich. Here are some more tips on navigating the grocery store for vegetables and how to prepare healthy meals.
There are also online resources to help you eat better on a budget.
Remember, eating healthy can be challenging even in the best of times. Be kind to yourself and set small, achievable goals every day to help you maintain a healthy diabetes diet, even in pandemic times.
Check out more expert answers to your COVID-19 questions here.