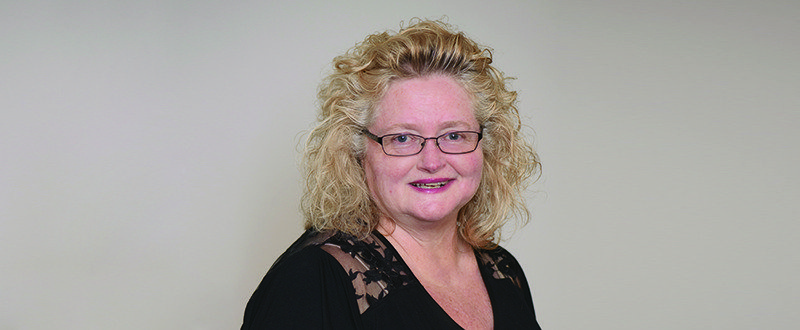 People with type 2 diabetes write back to their younger selves, to share personal insights and reflect on their experience of living with diabetes and starting on insulin therapy.   In this post, Dolores reflects on living with diabetes.
Single and hard-working, Dolores at 55 years old defined herself primarily through her job. She had worked for the same company for 32 years and felt like a member of a company family, with close ties to many people there. Completely loyal, she was sure she'd continue to be a part of that world until she retired. So, it was a shock when a new management team took over and in late 2016 Dolores was told that her job was being eliminated. She was devastated.
Despite the sense of anguish and hurt she felt, she tried to pick herself up and began hunting for a new job. Within a few months, however, she received more bad news. Two previous health issues had grown markedly worse.
Dolores' type 2 diabetes, which she had been diagnosed with in 2014, had progressed to the point where she needed to begin taking insulin as part of her treatment plan. "My blood sugar was excessively high and literally out of control," she says. Separately, ten years earlier Dolores had been diagnosed with heart failure, which she was able to reverse through cardiac rehabilitation. "Everything was fine until this past year, when the stress did a job on my heart," she explains. Now, she learnt, she had cardiomyopathy, a disease affecting the heart muscle.
She is writing to herself in early 2017, after finding out about her health problems.
Dear Dee
You've had two doctors' appointments in the past two weeks. In the back of your mind you had a feeling that things weren't good. It really didn't come as a surprise. You had been postponing and putting off doctors' appointments for quite a while. You were in denial. You thought that having your job eliminated was devastating. Now you have truly serious health issues to confront: diabetes and cardiomyopathy.
Part of you is still in denial about having diabetes. It's been a major event for you. You can't just eat whatever you want. You can't just go out. You're different from other people. But you haven't really taken that in fully, have you? When you come home upset, you have ice cream. When you live alone, there's nobody there to say "Don't do that."
Look back at the past several years. You devoted your time, energy and emotions to your job 100%. Yet you haven't truly been happy there for a long time. You felt, day in and day out, as if you had to prove yourself. You're an independent woman and tried to make a place for yourself, but it was an uphill battle all the way. You didn't get acknowledgement for your work. Stop trying to prove yourself. You're successful in other ways. You have your own home. You accomplished that by yourself. Try to see that now you can hit the reset button on your life and on these corrosive emotions that have affected your health. Yes, you will start on insulin, which you had hoped to avoid. But when you start a comprehensive programme that addresses your sugar levels, insulin and diet, as well as structured exercise and heart monitoring, you will feel so much better. You'll be able to lose 12 kilograms within a few months!
What may be more difficult for you, Dolores, is putting yourself and what you like first. Letting go of the things that make you unhappy, rather than doggedly trying to make them work, does not mean you've failed. It means you've made room for something new that does make you happy. It's out there for you.
You'll come to realise that losing your job, which at the time seems like the worst news ever, can turn out to make your life better. You have a family who loves you and is there for you. You have always worked well under pressure. Here's your chance to really make a difference in your life.
You got this!
With love,
Dee
This story has been edited by Ellyn Spragins and shared with support from Novo Nordisk Canada. The views and opinions expressed are not representative of Novo Nordisk, and should not be considered treatment advice. Novo Nordisk has permission to share this letter and included personal details.