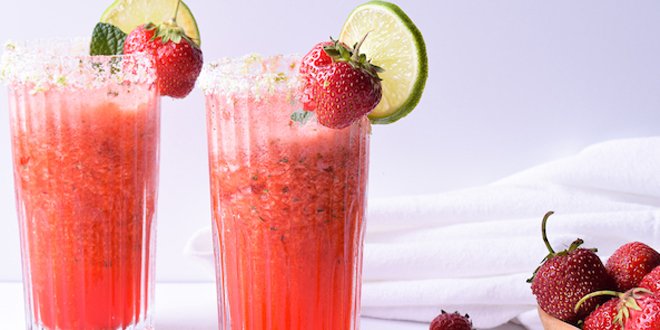 Warm weather, cool drinks!  This strawberry lime margarita mocktail is sure to please!
INGREDIENTS
To rim the glasses:
1-2 tsp lime zest
Kosher salt
1 lime wedge
For the strawberry mixture:
2 cups strawberries, hulled
¼ cup mint leaves
120 mL/ 4 ounces fresh lime juice
2 tbsp honey
About 4 cups crushed ice
About 500ml of sparkling water
For garnish:
4 strawberries (with hull on)
a few mint leaves
DIRECTIONS
Rimmed glasses: Place some salt and the lime zest in a small plate that is slightly bigger than the diameter of the glass rim.  Cut a little notch in the lime wedge and run that notch all around the rim of the glasses.  Dip the edge of each glass in the salt and lime zest.
For the strawberry mixture: In a blender, puree together the strawberries, mint leaves, lime juice, and honey.
Fill each glass with a scoopful of ice and then halfway up with sparkling water.
Pour the strawberry mixture into the glasses until the glasses are full.
Cut a little notch in each of the 4 remaining strawberries and place them on the rims of the glasses, garnish with a few mint leaves.
Serve immediately.
Serves 4