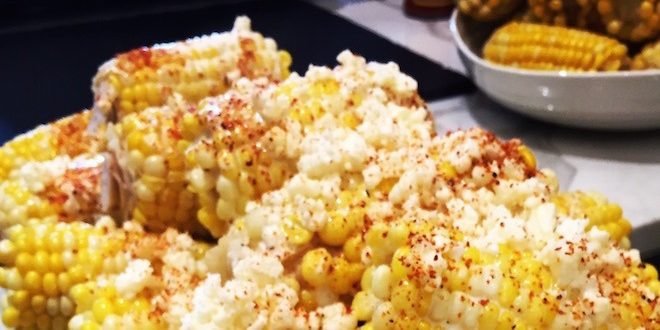 INGREDIENTS
5 corn on the cob, husked and cleaned. Cut into 2 pieces each
1 lime, cut in half
½ cup light sour cream
150g feta cheese, finely crumbled*
A shake of Tajin seasoning, Mexican seasoning powder
½ lime, cut into small pieces
DIRECTIONS
Bring a large pot of water to boil, put the corn pieces in it, cover the pot and remove from the heat. Let poach for 5 minutes or leave in the water to keep warm.**
Drain the corn, remove from the water onto a paper towel and blot the water off the corn with the paper towel.
Rub the lime halves all over the dry corn.
Using a spoon, spread about one tbsp of sour cream on each ½ cob of corn and then sprinkle the crumbled cheese on each piece. Sprinkle a little Tajin seasoning and serve with a wedge or lime.
Serve hot!
Serves 10
*crumble the cheese when it is very cold and it is easier to crumble it using a fork.
**You can also grill the corn for a delicious smoky flavor.