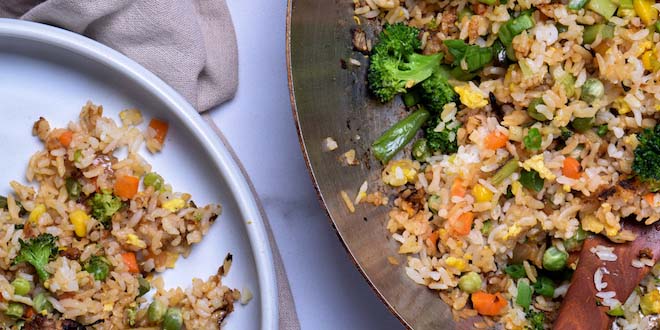 Fried rice is a great weeknight accompaniment to any meal—easy and delicious!  This recipe is a "healthy" version of the traditional recipe since it includes lots of veggies, is low in sodium, and uses brown rice. Fried rice is best made with COLD leftover rice, so make your rice the day before so that you can chill it.  Alternatively, you can make extra rice the next time you cook rice and freeze the 4 cups you need for this recipe.  You can use all kinds of vegetables, but I have kept it pretty simple.  Just make sure all your veggies are chopped and ready because once you get cooking, it all needs to be added in sequence and pretty quickly. Serve with chicken or tofu and you have a complete meal!
INGREDIENTS
1 stalk broccoli
2 tbsp canola or sunflower oil, separated
1 onion, diced small
2 green onions, whites and green parts separated and sliced into rounds
2 cloves garlic, minced
1 tbsp minced fresh ginger
2 cups frozen mixed vegetables (I use a mix of corn, carrot, peas and green beans)
4 cups very cold cooked brown short grain rice (from 1-2 cups dried uncooked rice)
2 eggs, beaten
1 tbsp light soy sauce or light tamari
DIRECTIONS
Remove the florets from the broccoli and break or cut them into small pieces. Set aside.
Cut the end off the broccoli stem, discard. Using a vegetable peeler, peel the broccoli stems and discard the shavings. Dice the broccoli stems into small pieces.
In a large fry pan or wok, heat only 1 tbsp of the oil over medium-high heat.
Add the onion and diced broccoli stem and sauté until the onion is translucent, about 5 minutes. Add the whites of the green onion, garlic and ginger and sauté for 1-2 minutes. Add the frozen mixed vegetables and broccoli florets and sauté until the frozen veggies are defrosted and the broccoli is bright green, about 3-4 minutes.
Turn the heat to high, move all the veggies to the sides of the pan, making a well in the centre. Add another 1 tbsp of oil to the pan. Add the cold rice, press the rice into the oil and hot pan to give it a crust and toss the rice while pressing. Do this for 1-2 minutes.
Move the fried rice and all the veggies to the sides of the pan, making a well in the centre. Add the beaten eggs and stir constantly so they set and form eggy threads that will distribute evenly throughout the dish. Once the egg is cooked, toss through the rice.
Add the soy sauce or tamari, toss through. Sprinkle the green parts of the green onion on top before serving.
Serves 6 (1 cup portions)