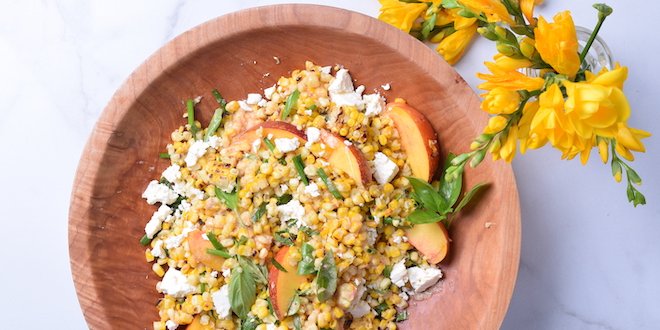 This super yummy corn salad is the perfect addition to any summer BBQ dinner. You can make it ahead or serve it right off the grill.
INGREDIENTS
4 ears of corn, husked
2 nectarines or peaches, sliced into ½-inch thick wedges or small bite-sized pieces
1 tbsp vegetable oil
½ tsp kosher salt
1 tsp chili powder
For the Dressing
2 tbsp tahini paste
2 tsp hot sauce
3 tbsp lemon juice
3 tbsp water
¼ cup olive oil
1 small shallot, thinly sliced
A handful of fresh basil leaves, torn
A small handful of fresh mint leaves, torn
4 oz (about ½ cup) feta cheese, crumbled
DIRECTIONS
Prepare grill for medium-high heat.
Brush corn with oil, sprinkle with kosher salt and chili powder. Place the corn on the grill, cook, turning often, until it is tender and charred in spots, 6-8 minutes total.  Transfer to a cutting board and let cool, then cut kernels from cobs.
Make the Dressing: In a medium bowl, mix all the ingredients together using a whisk. Set aside.
In a large mixing bowl, toss together the corn kernels and nectarine slices/pieces. Drizzle with half of the dressing and gently toss.  Fold the herbs and cheese through the salad.
Place the salad on a platter and drizzle with the remaining dressing.
Serves 6.