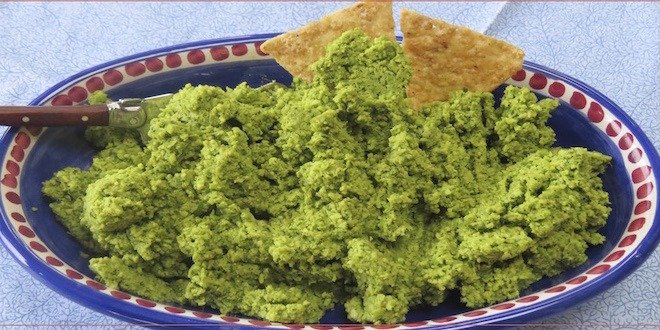 This recipe is one of my absolute favourite spreads. Edamame are very high in fiber, have equal amounts of protein as it does carbs and are full of antioxidants! I use it as a dip on rice chips or as a fabulous spread on whole grain bread.  Add a tomato, some cucumber slices and some lettuce and voila….the greatest lunch ever!
INGREDIENTS
salt for the boiling water
1 cup frozen shelled edamame beans
½ cup frozen sweet peas
¼ cup chopped chives (you can roughly chop them, they are going in the food processor)
small handful of cilantro leaves
1 tbsp low sodium tamari or soy sauce
1-2 tbsp flax seed oil (nutritional value below reflects 2 tbsp flax seed oil)
pinch of kosher salt
4-5 grinds of fresh pepper
DIRECTIONS
In a pot of boiling water, add about 1 tsp salt. Add the frozen edamame beans to the boiling water and cook for 2 minutes. Add the frozen peas to the edamame in the pot and cook for another 3 minutes (a total cooking time of 5 minutes).  Strain.
In the bowl of a food processor place the cooked beans and peas, chives, and cilantro leaves. Process until chopped. Add the tamari (or soy sauce) and flax oil. Process until chopped fine but not pureed.
Transfer to a bowl, add salt and pepper, taste. This spread is fantastic on plain rice crackers or wasabi rice cracker.
Makes about 2 cups.