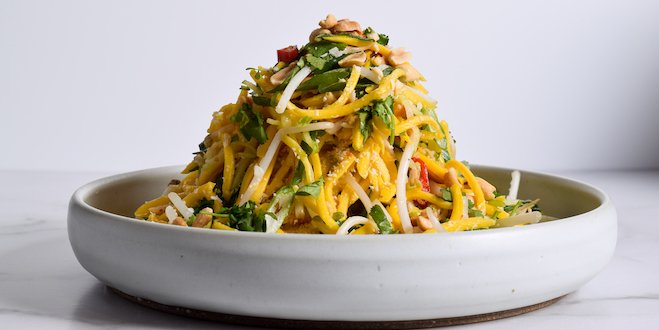 This salad will awaken your taste buds with its flavour and textures.  It is a great addition to any Thai meal.  It is healthy, will cool your palate and goes with all Thai dishes.
Ingredients
2 under ripe mangos, peeled
1 green apple, not peeled
1 cup bean sprouts
¼ cup shredded unsweetened coconut
Small handful of cilantro leaves, roughly chopped
2 green onions, sliced into 3-inch long slivers
1 long red chili (or 2 bird chilis), sliced into thin rounds
10 basil leaves, optional
¼ cup finely chopped salted peanuts
For the Dressing
3 tbsp unseasoned rice vinegar
1 tbsp grapeseed oil
1 tbsp lime juice
2 tsp sweet chili garlic sauce (or ½ tsp chili flakes plus 2 tsp honey)
Additional cilantro leaves
Directions
Make the dressing first by mixing all the dressing ingredients together. Set aside.
Using a mandolin or slicer with the julienne blade on, and slice the mango into thin matchsticks (you can also do this by hand using a sharp knife). Slice the apple the same way, place in a tossing bowl.
Add the bean sprouts, coconut, cilantro, green onion, chili and basil leaves, if using. Drizzle the dressing over and gently toss.
Arrange the salad piled on the small platter and sprinkle the peanuts on top and some additional cilantro.
Serves 6, 1 cup servings