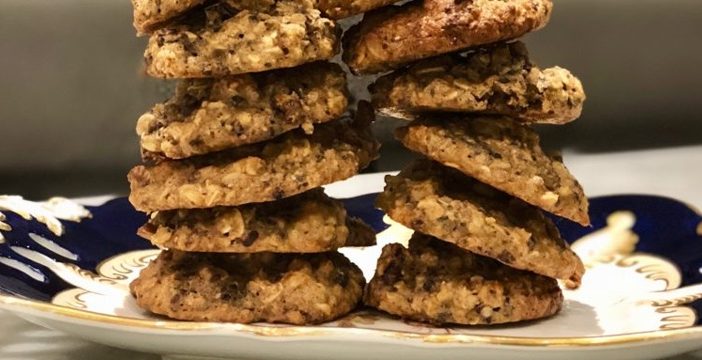 These cookies are gluten-free and refined sugar-free naturally. The addition of quinoa flakes combined with the oats give the cookies a really nice texture.
The Wet Ingredients
1 egg, beaten
½ cup tahini
¼ cup pure maple syrup
1 mashed ripe banana
½ tsp vanilla
The Dry Ingredients
½ cup oats (can use gluten-free)
½ cup quinoa flakes
1 tsp baking powder
1 tsp cinnamon
¼ tsp regular sea salt
¼ cup semisweet chocolate chips
¼ cup chopped walnuts
2 medjool dates, pitted and chopped
1 tbsp chia seeds
INSTRUCTIONS 
Preheat the oven to 350˚F. Make sure the oven rack is in the middle of the oven.
Line a cookie sheet with parchment paper.
In a medium-sized bowl, mix together the wet ingredients.
In a large bowl, mix together the dry ingredients.
Mix the wet ingredients into the dry ingredients. Do not overmix.
Drop even spoonfuls of dough on the cookie sheet.
Bake for 16-18 min.
Remove cookies as soon as you can from the sheet onto a cooling rack (they will have a crispy exterior and a chewy interior when they are cooled).
NOTE: NUTRITIONAL VALUE REFLECTS USE OF ½ OATS AND ½ QUINOA FLAKES. IF YOU WOULD LIKE TO SUBSTITUTE THE QUINOA FLAKES AND USE ALL OATS (1 cup total), SUGARS ARE 11g and CALORIES ARE 197.