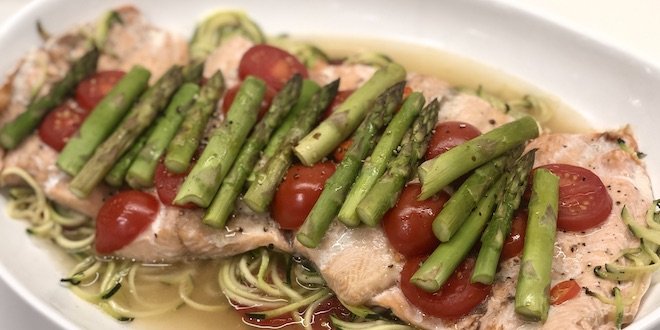 Baking fish in parchment allows for the flavours to really concentrate.  The steam helps to make a perfect sauce and the cleanup is minimal!  I often make this when I need an easy dinner for 2 or 4 people.
INGREDIENTS
1 pound of skinless rainbow trout or salmon, one piece
2 zucchinis, spiralled or 2 cups pre-spriralized zucchini
½ of a fresh long red chili, sliced in rounds
6 campari tomatoes, each sliced into 3-4 rounds
½ bunch of asparagus, end removed and stalks cut in half.
1/2 tsp sea salt, divided
Freshly ground black pepper to taste
2 tbsp extra virgin olive oil
1 tbsp balsamic vinegar
DIRECTIONS
Preheat oven to 400°F.
On the work surface, lay a sheet of parchment paper lengthwise. The piece of parchment should be about 4 times the length of the fish
Using the lower half of the parchment paper, lay down the spiralized zucchini (this will be the "bed" for the fish). Tuck about half the tomatoes slices and half the red chili rounds in the zucchini noodles. Drizzle with 1 tbsp of the oil, about 1 tsp of the balsamic, sprinkle with salt and pepper.
Lay the fish fillet on top of the zucchini and tomato bed.
Drizzle a small amount of the oil on the fish and season with half of the salt and pepper.
Distribute the remainder of tomatoes, red chili rounds and all the asparagus spears on top of the fish.
Drizzle with the remainder of the oil, balsamic vinegar, salt and pepper.
Fold the upper half of the parchment paper over the vegetable/fish mound (you should leave enough space around the food to allow the air to expand and circulate). Fold parchment paper over the fish, and fold the edges of the paper over several times, being sure to seal the contents inside (you can staple the folds at the top to seal the contents). Place the package on a cookie sheet and bake for 20-25 minutes.
Cut the package open and either slide the contents onto a plate or serve directly from the open parchment.
Serving Suggestion: I like to serve this over a bed of brown rice, quinoa, or millet
Serves 4