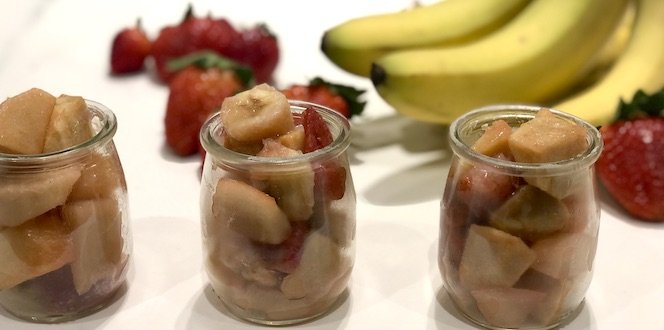 This is a delicious healthy dessert. The addition of a vanilla bean is so beautiful and intensifies the taste. Vanilla beans are usually found in small glass tubes at the cash register area of the grocery store or in the spice aisle. You can always use vanilla extract in its place.
INGREDIENTS
1 tbsp sugar
1 tsp vanilla extract or ½ vanilla bean
2 tbsp water
1 lb apples, peeled, pitted, sliced ¾-inch pieces
2 pears, peeled, pitted, sliced ¾-inch pieces
6 strawberries, quartered
1 banana, cut into rounds
2 tbsp lemon juice
1 tbsp unsalted butter
DIRECTIONS
Preheat oven to 375ºF.
Place sugar in small bowl. Slice vanilla been in half lengthwise. With the back of a knife, scrape out seeds and stir into sugar (the seeds will be sticky and paste-like). Cut the bean in 2 inch pieces and add to the sugar vanilla mixture.
Arrange the fruit in a large baking dish, sprinkle with lemon juice, spread the butter pieces everywhere and drizzle the sugar mixture over the fruit and scatter the pods through the fruit.
Roast the fruit, brushing it occasionally throughout the cooking, until the fruit is tender and glazed (about 20-40 mins.) and the juices are thick and syrupy. If the syrup evaporates too quickly, add a little more water.
Make Ahead Tip: This can be prepared several hours or a day or so in advance and reheated in a warm oven, stirring occasionally.
Makes 6 servings