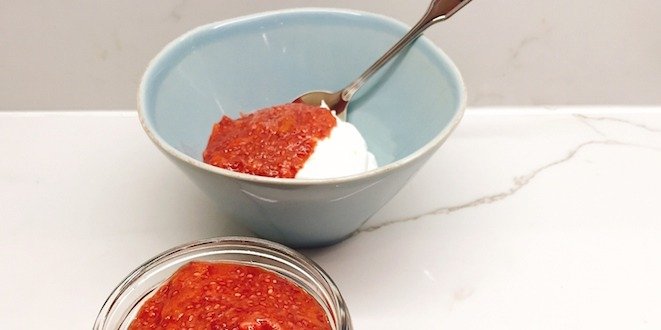 INGREDIENTS
2 cups of 1-inch sliced rhubarb or 8 oz
2 cups cut up strawberries, about 16-20 or 8oz
2 tbsp water
4 tbsp chia seeds
2 tbsp honey
Zest of 1 orange
DIRECTIONS
Put the rhubarb and strawberries and water in a small pot and heat over medium high heat. Cook for 10 minutes with the lid on, stirring occasionally.
Place this mixture in a blender and puree, leaving a little texture.
Pour into a mixing bowl, add the chia, honey and orange zest, stir well. Let it stand for about 10 minutes or so, stir again and then place in a jar/container in the fridge.
Makes about 2 cup
12 2-tablespoon servings
*Nutrition information is for recipe prepared with rhubarb
Lasts about 2-3 weeks in the fridge