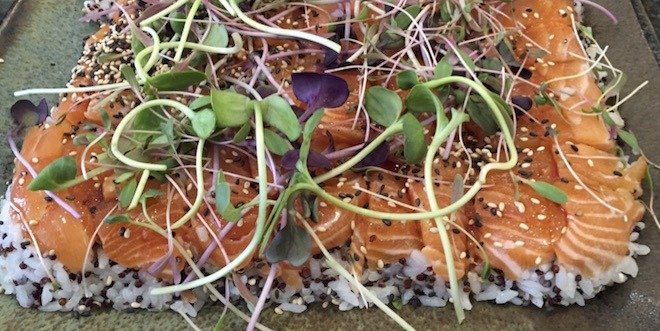 INGREDIENTS
1 8×8 inch dish (I use a square pyrex)
2 cups uncooked white sticky sushi rice
1 cup uncooked black or red quinoa, cooked* (you won't need all of it once it is cooked)
½ cup rice vinegar and a few extra tsp.
1 tsp. sugar
350g cleaned, skinned sushi grade salmon
2 tbsp light tamari
1 tsp chili sauce
Mixed baby microgreens or sprouts
A few tbsp of mixed black and white sesame seeds (optional)
DIRECTIONS
Cook the sushi rice according to package directions. Once cooked, mix all the sushi rice and only 1 cup of the cooked quinoa together in a large bowl (I prefer using a wooden salad bowl for this).
Heat together the rice vinegar and sugar (I do this in the microwave). Add half the mixture to the rice-quinoa mixture, stir gently to combine. Let absorb. Add the remaining half, mix. Place a damp towel on top of the rice and let cool completely (at room temp if you have time or in the fridge if you don't).
In the meantime, slice the salmon in thin slices and set aside in the fridge.
Line the bottom of the pyrex dish with plastic wrap. Lay the salmon pieces overlapping one another over the entire bottom of the dish and then press all of the rice mixture evenly and firmly into the salmon slices, cover with another piece of plastic wrap. Place something heavy over the salmon-rice sandwich and refrigerate for at least 30 minutes.
In the meantime, mix the tamari, chili sauce and the few extra teaspoons of rice vinegar together and set aside.
Remove the pressed sushi from the fridge and remove the top layer of the plastic wrap. Flip onto a platter or cutting board. Remove the plastic wrap from on top of the fish and using a sharp long knife, slice into small pieces (about 25). Drizzle with the tamari/chili mixture and top with black and white sesame seeds and micro greens or sprouts.
Serves 6 (about 4 pieces)
*To cook quinoa: Rinse quinoa in a strainer, put into a small sauce pan with 1½ cups water and 1 tsp. salt, and bring to a boil. Reduce the heat and simmer covered for 15 minutes, fluff with a fork and let cool with lid off.