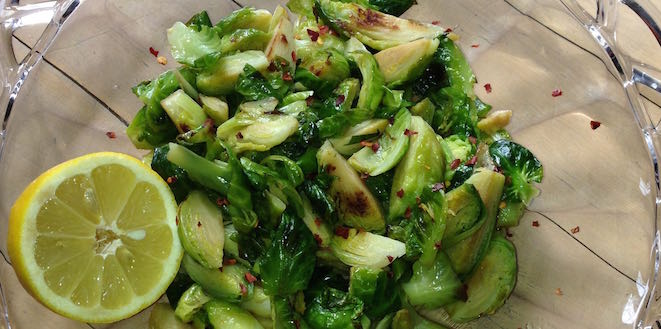 This recipe is the epitome of "less is more." Properly treated Brussels sprouts are the perfect vegetable addition to almost any meal. So easy and fast to prepare, you will love making these.
INGREDIENTS
1 tbsp olive oil
1 lb brussels sprouts, cleaned, trimmed and quartered
½ tsp kosher salt
About 3 tbsp water
½ lemon
pepper
chili flakes
DIRECTIONS
Heat a large frying pan over medium-high heat, and add olive oil. Add the brussels sprouts, spread evenly around the pan. Sprinkle with kosher salt. Cook undisturbed until browned on one side, about 4 minutes. Toss.
Continue cooking until they are browned all over, another 3-5 minutes.
Add about 3 tbsp water to the pan and cover partially. Let cook for another 5 minutes or until the sprouts are fork tender but not mushy. You may need to add more water if the water evaporates too early.
Plate the brussels sprouts, sprinkle with lemon juice, pepper, chili flakes.