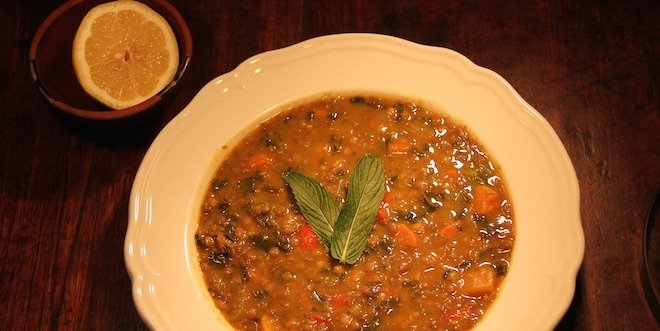 INGREDIENTS
2 cooking onions, finely chopped
4 carrots, finely chopped
5 ribs celery, finely chopped
4 cloves garlic, smashed and chopped (not pureed)
1 tbsp kosher salt
¾ tsp curry powder (I use the hot one)
¾ tsp cumin
¾ tsp turmeric
3 strips of peel from a lemon
1 red pepper, finely chopped
1¼ -1½ lbs peeled butternut squash, cut into small cubes (from a 2 lb unpeeled squash)
3 cups dry lentils (I like lentils du puy, but brown or green is also fine)
8 cups low sodium chicken or vegetable stock
4 cups water
3-4 tbsp lemon juice
1 bunch kale, Swiss chard or 2 bunches of spinach, stemmed and cut in small bites (about 3½ cups)*
DIRECTIONS
In a heavy bottomed soup pot, add oil. Add onion, carrots, celery and garlic. Add salt and sauté until onions are translucent. Add the red pepper and squash. Cook for 3-5 minutes.
Add all the spices and lemon peel. Cook for 1 minute.
Add the lentils, stir to coat.
Add the stock and water and bring to a boil (uncovered). Turn heat to low and let simmer uncovered until the lentils are tender, about 45 minutes. At this point, you can puree some of the soup for texture. Put the pureed part back in the pot and carry on with step #5.
Add the greens, cook until tender but still bright in color (about 10 minutes). Add the lemon juice, taste for seasoning and eat with warmth and love.
Makes a HUGE soup (about 20 cups or more)
Serving size: 1 cup
*In a pinch I use COOKING GREENS brand, they are found in the frozen section of the grocery store. I will use about 2-3 cups of frozen spinach, kale or the mixed greens. I use them straight from the freezer.