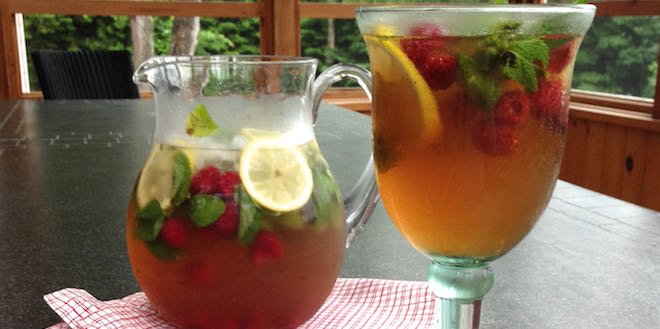 INGREDIENTS
Tea Base:
3 Earl Grey tea bags
1 tbsp. honey, optional (not reflected in the analysis),
or use any artificial sweetener of your choice to taste.
4 cups boiling water
For The Refresher
1 bunch fresh mint, leaves only
1 cup raspberries, frozen or fresh
1 lemon, sliced thinly
Water
Ice Cubes
DIRECTIONS
Steep the 3 tea bags in the 4 cups boiling water for 30 minutes, remove tea bags, add honey if using. Allow to cool in refrigerator for up to 1 week. Use when desired.
When ready to make the Moroccan Mint Raspberry Refresher, pour cooled tea base into large pitcher, about 8-12 cups. Add mint leaves, raspberries, lemon slices ice cubes and fresh cold water to fill the pitcher.
Serve chilled and enjoy!
Serves 8