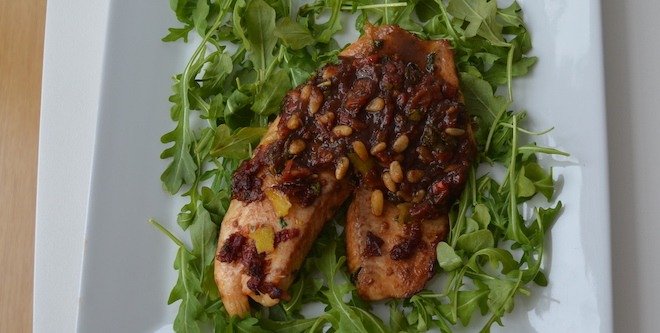 The addition of a small amount of fennel in the marinade adds a
fabulous crunch to the end product.  Using a high quality balsamic adds
so much depth in flavor.
INGREDIENTS
2lb Mediterranean sea bass fillets (from 3 whole fish), I like branzino or orata, but you can use any white fish such as tilapia or red snapper.
Marinade
2 tbsp olive oil
1 large clove garlic, minced
4 sun-dried tomatoes from the jar (use a little of the oil as well), chopped very finely
3-4 tbsp finely diced fennel
2 tsp lemon zest
1½ tbsp finely chopped flat leaf parsley
1½ tbsp finely chopped basil
1½ tbsp balsamic vinegar
1 tsp honey
½ tsp Kosher salt
Sun Dried Tomato Coulis
1 tomato, peeled, seeded and chopped finely
1 clove garlic, minced
1 tsp finely chopped basil
1 tbsp finely chopped Italian parsley leaves
6 sun dried tomatoes from the jar, sliced thinly
2 tsp balsamic vinegar
1 tbsp extra virgin olive oil
1 tsp honey
juice from ½ lemon
2 tbsp pine nuts
plenty of freshly ground pepper
DIRECTIONS
Mix all the marinade ingredients together in a medium size bowl.
In a small pot, mix together all the coulis ingredients and heat until hot but not boiling. Set aside.
Remove the fish fillets from the fridge one hour before cooking. Place the fish in a large glass dish in a single layer, pour the marinade evenly over the fish, then flip the fish over so that the flesh is "sitting" on the marinade.
Fifteen minutes before cooking, line a baking sheet with foil and place in the oven on the top rack. Turn the oven on broil.
Warm up the coulis.
When ready to cook the fish, remove the hot baking sheet from the oven, spray with non stick spray and lay the fish, skin side down on the hot sheet. Gather the remaining marinade ingredients and evenly distribute them on top of the fillets. Broil the fish for 5 mins. Remove from the oven, place on a platter and spoon the warm coulis over the center of each fish fillets.
Serves 6