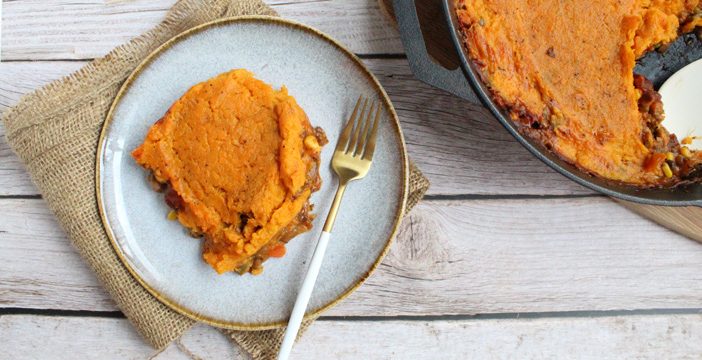 This lentil shepherd's pie is the perfect family-friendly dinner to enjoy over the holiday season or simply during a cold weekday night. It is also loaded with fiber, protein, and flavour!
INGREDIENTS
Topping
3 medium sweet potatoes, peeled and cut into chunks
¼ cup milk
¼ cup unsalted butter, melted
Filling
1 tbsp olive oil
½ white onion, chopped
3 garlic cloves, minced
2 tsp dried thyme
2 tsp dried basil
1 tbsp reduced-sodium soy sauce
2 cups frozen vegetables
1 ½ cup low-sodium veg stock
2 tbsp cornstarch
1 cup low-sodium crushed tomato
1 (400ml) can of brown lentils
INSTRUCTIONS
Prepare mashed potatoes: Bring a large pot of water to a boil and add sweet potatoes. Cook for 20-30 minutes, or until fork tender.
Drain potatoes and begin to mash with a hand masher or fork. Mix in milk and melted butter.
Prepare filling: in an oven safe pot or skillet, heat olive oil over medium heat. Add onions and sauté until fragrant, about 5-7 minutes.
Add garlic, thyme, basil, and soy sauce, and sauté for 2-3 minutes.
Add frozen vegetables and 1 cup of stock. Combine ½ cup of the left over stock with 2 tbsp of cornstarch, mixing with a fork until well combined, then add to the pan.
Add crushed tomatoes and lentils to the pan. Mix everything together and increase the heat to bring to a simmer. Let simmer until the lentil mixture thickens, about 5 minutes.
Preheat the oven to 350F. Carefully spoon the sweet potato mash on top of the lentil mixture, and using a fork or large spoon spread into an even layer.
Bake lentil shepherd's pie in the oven for 15-20 minutes, or until it starts to bubble on the sides.
Serve and enjoy!
Serves: 6