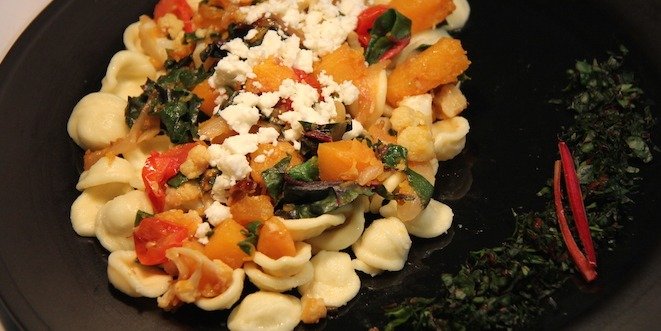 INGREDIENTS
2 tbsp extra virgin olive oil
1 large vidalia onion, diced
1 small head cauliflower, cut into small florets
1 lb butternut squash, cut into small cubes*
1 small bunch of swiss chard, leaves only (no core), cut into bite size pieces
12 cherry tomatoes, halved
2 cloves garlic, minced
½ lb pasta, I like whole wheat orchietti (250g) (half of a standard 1 lb/454b bag or box pasta)
4 oz feta cheese
DIRECTIONS
Heat olive oil over medium heat in a large frying pan (one that has a lid for later), add onion and sauté until soft and starting to brown on the edges, approximately 10 minutes.
Add squash pieces, cauliflower and garlic. Toss to coat and sauté with LID ON, until soft, tossing a few times. About 15 minutes.
Remove lid, add the tomatoes, and toss, cooking for 2-3 minutes.
Add swiss chard, toss to coat, and cook until wilted (you may need to add the chard in batches allowing some to wilt before adding more), about 5 minutes.
Boil pasta water, add pasta. Cook until al dente (or slightly chewy).
When the pasta is ready, drain and SAVE A FEW CUPS OF PASTA WATER. Toss the pasta into the pan with the squash mixture, and add about ½ cup or so of pasta water. Cook tossing the pasta in the mixture and continue cooking pasta while adding pasta water as needed to finish cooking the pasta, (you will probably use about 1 cup total).   You can put the lid on to finish cooking the pasta – it will make it a little creamier. Turn heat off, add feta cheese. Serve.
Serves 4
*if you are using cut squash that comes in the box, you will need to cut each cube in 4 smaller pieces.