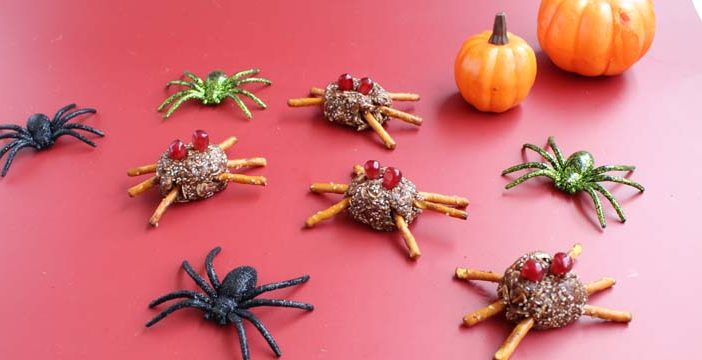 These Halloween spider energy balls make for the perfect nutrient-dense Halloween-themed spooky snack.
INGREDIENTS
½ cup rolled oats
¼ cup nut butter
2 tbsp honey
2 tbsp cocoa powder
2 tbsp ground flax seed
2 tbsp chia seeds
½ tsp vanilla extract
30 Pretzel sticks cut in half
INSTRUCTIONS
In a large bowl, combine rolled oats, nut butter, honey, cocoa powder, ground flax seed, chia seed, and vanilla extract. Mix until well combined.
Once all ingredients are evenly incorporated, use a teaspoon to scoop mixture and form a ball using your hands.
Carefully insert 6 pretzel sticks into each energy ball (3 on each side) to form the spider "legs". Add two pomegranate arils on top to form the "eyes".
Let the spider energy balls sit in the fridge to set for 30 minutes.
Serve and enjoy!
Makes 10 energy balls