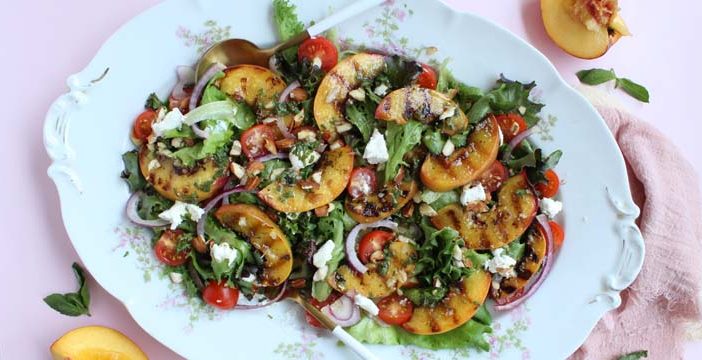 Put your grill to good use with this delicious grilled peach salad! Topped with a lemon basil dressing, this salad brings all the flavours of summer into one nutrient-dense salad.
INGREDIENTS
4 cups mixed greens
1 medium peach, sliced
½ cup cherry tomato (or about 10 cherry tomatoes)
1 tbsp red onion, thinly sliced
¼ cup almonds, chopped*
1 tbsp goats cheese, crumbled
Lemon Basil Dressing (makes ¼ cup)
2 tbsp olive oil
1 tbsp fresh basil, finely minced
Juice from ½ lemon
½ tsp dijon
¼ tsp salt
INSTRUCTIONS
Heat a grill pan or your BBQ over medium-high heat. Lightly brush both sides of peach slices with olive oil and place on the heated pan or grill. Grill for 3-5 minutes until peaches become soft and are browned with grill marks. Flip peaches and grill on the other side for another 2-3 minutes.
Prepare dressing by whisking together olive oil, basil, lemon juice, dijon mustard, honey, and salt. Set aside.
Prepare salad by layering a serving bowl with mixed greens, grilled peaches, cherry tomatoes, red onion, crushed almonds*, and goats cheese.
Drizzle with salad dressing, serve and enjoy!
*If you don't have almonds on hand, any chopped nut will work for this recipe (i.e. walnuts, cashews, pecans, etc.)
Serves: 2
Salad

Salad Dressing