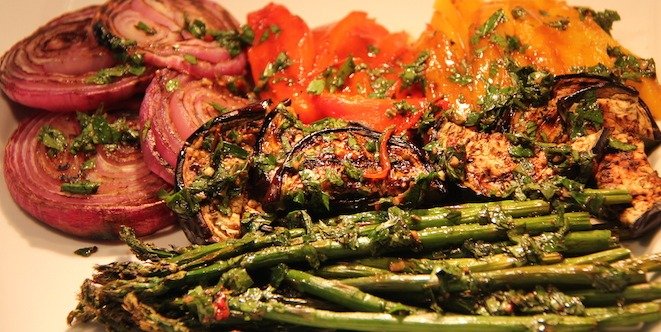 Grilled veggies are so delicious when they are marinated AFTER they are grilled rather than before. I love having a big batch so that I can eat them as a snack or to top a salad with the next day. Sometimes I even make a grilled vegetable and hummous sandwich for lunch the next day.
INGREDIENTS
1 large eggplant
2 red bell peppers
1 bunch asparagus
2 red onions
1 red chili pepper or jalapeño pepper (optional)
2 tbsp chopped mint
2 tbsp chopped parsley
1 clove garlic, minced
2 tbsp good quality olive oil
1 tbsp aged balsamic vinegar
½ tsp salt
Freshly ground pepper to taste
DIRECTIONS
Heat grill to med-hot.
Slice eggplant into ¼ inch slices, salt and let stand until small beads of water appear. Rinse and pat dry. Grill until soft. Thinly slice into ½ inch strips lengthwise.
Grill red peppers whole on all sides until nicely charred. Place in paper bag to steam or cover with plastic wrap for a few minutes; this will help to loosen the skin. Peel all charred skin and seed the peppers. Thinly slice peppers into ½ inch strips.
Grill asparagus until lightly charred and softened.
Slice onion in ½-inch rounds, grill until softened, do not burn.
Grill hot chili pepper until charred on all sides. When cool, peel, seed and chop finely (this will be part of the dressing).
Place all vegetables (other than chili pepper) on a platter
Make a dressing by mixing together in a small bowl the chopped mint, parsley, garlic, chopped grilled chili pepper, olive oil, and vinegar. Season with salt and pepper.
Drizzle dressing all over the veggies making sure it gets in and around the veggies.
If you have leftovers it will keep in fridge for several days.
Serves 6 as a side veggie