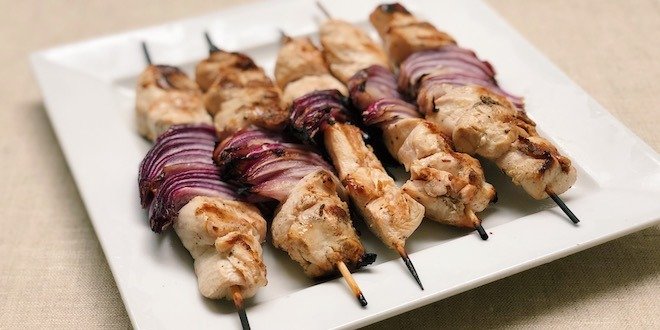 This is a sure thing family favourite. You can grill the chicken on skewers or simply as boneless chicken thighs or breasts. You can double or triple the recipe easily and even freeze the chicken in the marinade and you have a 'ready-to-go' meal on hand.
INGREDIENTS
1/3 cup freshly squeezed lemon juice
1/3 cup extra virgin olive oil
2 tsp table salt
pepper to taste
1 tbsp dried oregano
¾ tsp turmeric
1 tsp paprika
3 cloves garlic, minced
2lb (900g) boneless and skinless chicken thighs or breast cut in large chunks
2 red onions roughly chopped (optional)
8 metal or wooden skewers (if you use wood skewers, soak them first)
DIRECTIONS
Combine the ingredients (first 8 ingredients) for the chicken marinade in a medium sized bowl and add chicken. Let marinate for several hours or overnight.
When ready to grill the chicken, heat grill to high. Put 4-5 chicken pieces on each skewer with 2 pieces of red onion in between each piece of chicken.
Grill the chicken on medium/high.Turn after 4-5 minutes or when the chicken releases easily from the grill and golden grill marks have formed. Grill on 3-4 sides (10-15 minutes total cooking time).
Serve hot or room temperature.
Serves 8 4oz, 122.6g portions (I like to remove the chicken from the skewers before serving).
Please Note: The salt and the oil quantity may appear high, however, this is a marinade; when you go to grill the chicken, most of the marinade is left behind and discarded.