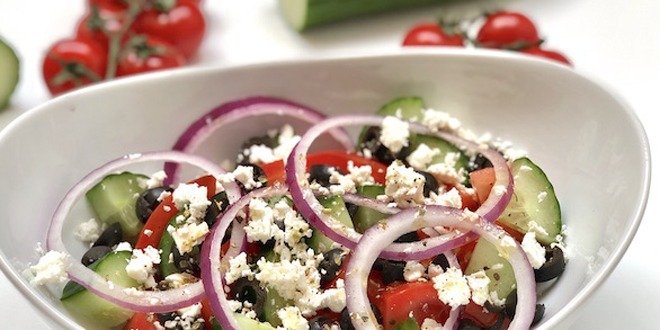 Greek salad is the perfect accompaniment to any meal. It is super easy to prepare and simple in flavours, so it goes with almost anything. Remember…never put your tomatoes in the fridge – it ruins the flavour and texture.
INGREDIENTS
1 tomato, cut in chunks
½ cup cucumber, cut in chunks
1 tbsp chopped red onion
4 black Kalamata olives, pitted and sliced
1 tbsp feta cheese, crumbled
DRESSING
1/2  tbsp red wine vinegar
1/2  tbsp olive oil
1/8  tsp oregano
Salt and pepper to taste
DIRECTIONS
Add tomatoes, cucumber, onion, olives and feta cheese to a medium-sized bowl.
Add dressing and enjoy!
Makes 2 servings