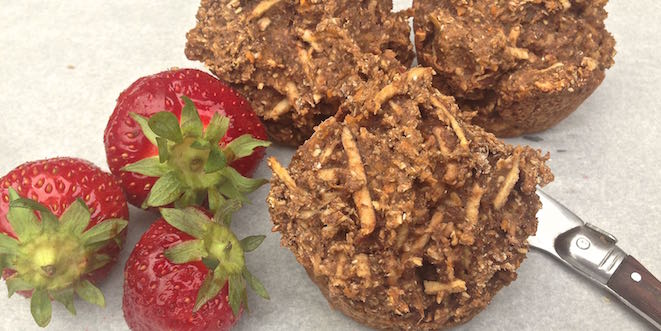 These muffins are so delicious that you won't want to tell anybody how healthy they are! The addition of flax seed adds omega 3 fatty acids and the oat bran and sweet potato has so much fiber – this is a FABULOUS breakfast muffin.
INGREDIENTS
1½ cup whole wheat flour
¾ cup ground flax seed
¾ cup oat bran
½ cup brown sugar (if you are being extra careful, lessen the sugar a bit or use Splenda)
2 tsp baking soda
1 tsp baking powder
½ tsp salt
2 tsp cinnamon
2 apples, peeled, cored and shredded*
1 large sweet potato, cooked and peeled**
¾ cup unsweetened almond milk or skim milk
2 eggs, beaten (if you want you can put 4 whites)
2 tbsp vegetable oil or melted coconut oil
1 tsp vanilla extract
DIRECTIONS
Prepare 2 muffin trays (however, you will only need 18 cups) by spraying them with vegetable oil spray.
Preheat oven to 350ºF.
In a large bowl, combine all dry ingredients (flour through cinnamon).
Mix the grated apple to the dry mixture. Make sure it is really mixed up (hands are the best tools) so that the apple shreds get coated with the flour mixture.
In another bowl or the measuring cup that you are using to measure the milk, mix together the milk, eggs, oil and vanilla. Add the sweet potato, and make sure the sweet potato is well mixed into the wet mixture. Add this to the flour apple mixture. Mix well with spatula or wooden spoon without over mixing.
Spoon into the prepared muffin tins.
Bake for 15-20 minutes.
* I use my food processor to shred the apples, but you can use a standard box grater.
**To cook the sweet potato: Using a fork, make a few holes in the potato. Microwave on high how 3-4 minutes, turn over and continue cooking for 2-3 minutes. Allow to cool and peel.
***You can replace the sweet potato with unpeeled raw grated zucchini, just don't use the inside core or seeds and mix it with the apple and flour.
Makes 18 muffins