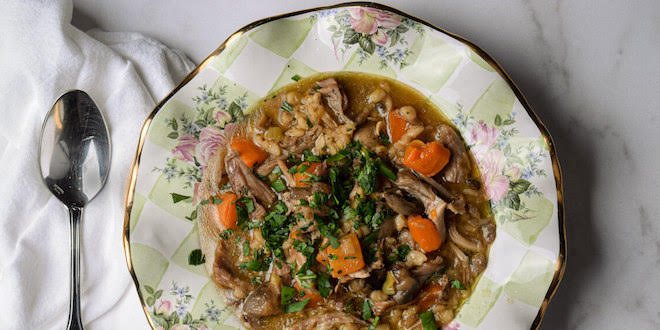 Ingredients
2 tbsp olive oil
3 leeks, white and light green parts, coarsely chopped
½ lb button mushrooms, sliced
2 medium carrots, peeled and coarsely chopped
½ cup pearl barley
3 large garlic cloves, minced
1 tsp salt
2 skinless turkey drumsticks or 1 turkey leg (thigh and drumstick intact)*
8 cups no-sodium chicken broth
2 tbsp chopped Italian parsley
¼-½ tsp pepper or to taste
*you will often find turkey drumsticks or legs in the freezer section at your butcher.  Leave it to defrost in the fridge overnight before you want to use it.  You can replace the turkey legs with 8 skin-less, bone-in chicken thighs.
Directions
Heat the olive oil in a large soup pot over medium heat. Add the leeks and sauté until they have softened, 5-7 minutes.  Stir in the mushrooms, carrots, barley, garlic and salt and sauté 1 minute longer.
Add the turkey legs, sauté for a minute or two, add the broth, bring to a boil and reduce the heat to low.
Cover and simmer for about 1½ hours until the barley is tender but not mushy.
Remove the turkey legs. When cool enough to handle, remove the meat from the bones.  Shred the meat into bite size pieces and return to the pot.  Turn the heat off.
Stir in the parsley, add the pepper to taste and enjoy!
Freezes well.
Serves 8