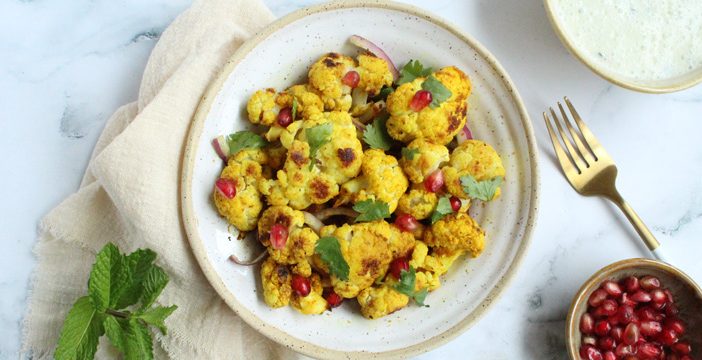 This roasted curry cauliflower is as delicious as it is easy on the eyes. This colourful and flavourful vegetable side-dish is made extra tasty when combined with a homemade mint yogurt sauce.
INGREDIENTS
1 head of cauliflower, cut into florets
2 tsp curry powder
1 tsp garlic powder
½ tsp turmeric powder
¼ tsp pepper
¼ tsp salt
1 tbsp lemon juice
2 tbsp olive oil
Garnish
1 tbsp cilantro, roughly chopped
2 tbsp red onion, sliced
1 tbsp pomegranate arils (seeds)
Yogurt Mint Sauce (makes ½ cup of sauce)
½ cup yogurt
1 cup fresh mint
1 garlic clove
¼ cup cilantro
¼ cup lemon juice
Pinch of salt
Pinch of pepper
INSTRUCTIONS
Preheat oven to 425F. Prepare a baking sheet with parchment paper, and set aside.
Place cauliflower florets into a bowl and toss with curry powder, garlic powder, turmeric, pepper, salt, lemon juice, and olive oil. Mix until evenly coated.
Spread cauliflower in a single layer on the baking sheet and roast in the oven for 25-30 minutes mixing half way, or until florets are tender and golden.
While the cauliflower is in the oven, prepare yogurt mint sauce by combining yogurt, mint, garlic, cilantro, lemon juice, salt and pepper in a food processor or blender. Blend until smooth and well combined, set aside.
To a mixing bowl, combine roasted cauliflower with cilantro, red onion, and pomegranate.
Portion one cup of cauliflower mixture to a side dish and top with 3 tablespoons of yogurt mint sauce.
Serves: 3