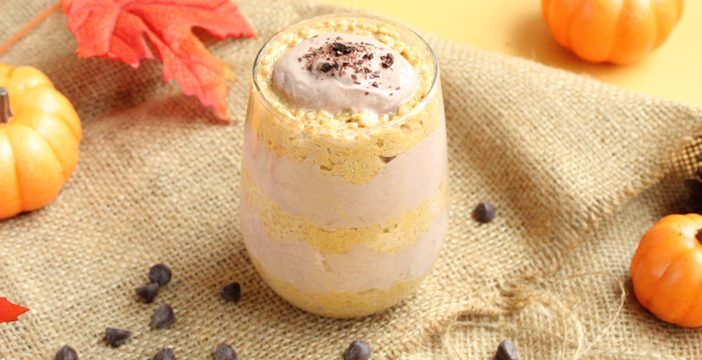 This chocolate pumpkin chia pudding doubles as a nutrient-dense breakfast and flavourful dessert perfect for the Thanksgiving season. Not only does it taste like fall, but it is also loaded with protein and fiber.
INGREDIENTS
½ cup pumpkin puree
¼ cup chia seeds
¾ cup soy milk
1 tbsp honey or maple syrup
1 tsp vanilla
1 tbsp nut butter
1 tsp pumpkin spice
½ cup Greek yogurt
1 tbsp cocoa powder
INSTRUCTIONS
In a bowl or medium container, combine pumpkin puree, chia seeds, milk, honey, vanilla, nut butter, and pumpkin spice. Gently mix until well combined. Let sit in the fridge for 4 hours or overnight.
Prepare chocolate yogurt by mixing together yogurt and cocoa powder. Set aside.
In a small jar or bowl, layer pumpkin chia seed pudding with chocolate yogurt.
Serve and enjoy!
Serves: 3