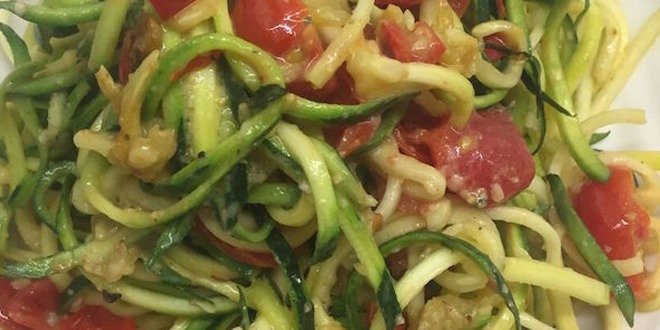 This recipe is a take-off of the traditional Italian 'Cacio E Pepe' or cheese and pepper pasta recipe.  I am adding tomatoes and using spiralized zucchini in place of noodles.  I have a small inexpensive home spiralizer that looks like an oversized pencil sharpener (pictured below).  You can find it at any kitchen store.  Many grocery stores are now carrying spiralized zucchini and other vegetables.  It is a fabulous pasta alternative!  I serve this alongside a simple grilled or roasted chicken breast, lean steak or grilled shrimps.
INGREDIENTS
2 zucchinis, spiralized
1 cup cherry tomato halves
2 tsp extra virgin olive oil
½ tsp freshly ground medium coarse pepper
Zest of one lemon
¼ cup grated parmesan cheese
DIRECTIONS
In a large sauté pan or wok, heat oil until shimmering.
Add cherry tomatoes and cook on medium high for 3-4 minutes.
Add the spiralized zucchini and pepper and toss for 1-2 minutes. Turn heat off.
Add lemon zest and cheese, and toss.
Serve immediately.
Serves 2