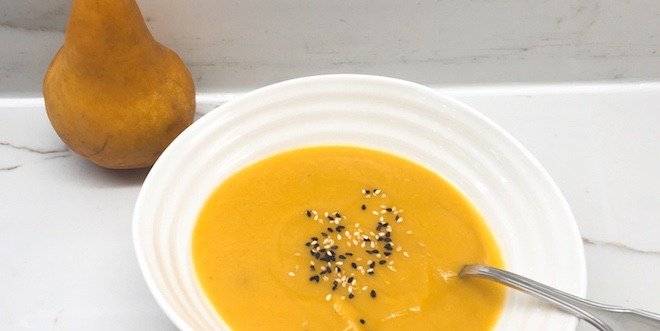 INGREDIENTS
2 tbsp extra virgin olive oil
1 large onion, diced
2 lb butternut squash, peeled and cubed (one medium squash or the equivalent in precut cubes)
1 potato (about 8oz), peeled and cubed (I use Yukon gold)
3 small parsnips (about ½ lb), peeled and diced
2 pears, peeled, cored and diced (I use Anjou)
1 tsp kosher salt
½ tsp curry powder
⅛-¼ tsp cayenne powder
⅛ tsp cinnamon
⅛-¼ tsp cumin
4 cups low sodium chicken stock (or veg stock)
2 cups water
freshly ground pepper, lots!
DIRECTIONS
Heat large pot over medium heat. Add oil.
Add diced onion, cook until translucent and beginning to brown on the edges, about 3-5 minutes.
Add the curry powder, cayenne, cinnamon and cumin. Toss to coat. Cook for another minute or so.
Add cut squash, potato, parsnip and pear. Sprinkle with the salt. Cook for about 10 minutes, tossing every once in a while.
Add the stock and water. Bring to a boil over high heat. Once boiling, lower the heat to a simmer and cover with the lid. Cook for about 45 minutes or until the vegetables are soft.
Allow to cool a little before pureeing. In batches, puree the soup. The best way to do this is with a good blender, but an immersion blender will work too. Don't blend too long, or it will have a baby-food consistency, just blend until smooth. Leave a slight texture.
As you go, add each batch to a heatproof bowl or another pot. Add the pepper, taste. At this point you can serve right away or cool and refrigerate or freeze.
Makes 12 – 1 cup servings