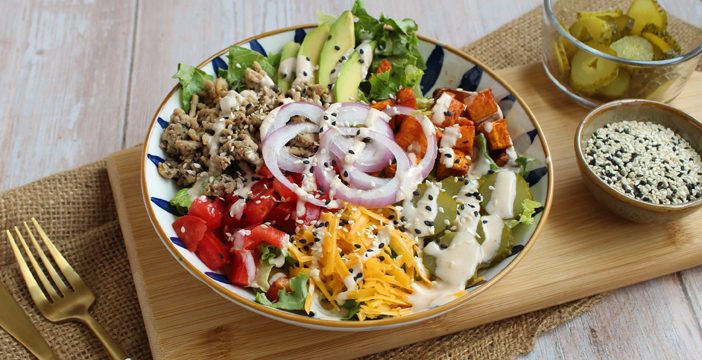 This deconstructed turkey burger salad with a spicy yogurt dressing is loaded with classic burger toppings but with a healthy twist!
INGREDIENTS
1 medium sweet potato, cubed
1 tbsp olive oil
2 tsp salt
2 tsp pepper
450 grams ground turkey
1 ½ tsp dried basil
2 tsp garlic powder
½ tsp paprika
1 ½ cup green leaf lettuce, chopped
½ tomato, diced
¼ avocado, sliced
2 tbsp pickle, sliced
1 tbsp red onion, sliced
2 tbsp cheese, shredded
½ tsp sesame seed
Sriracha Yogurt Dressing (makes ½ cup)
2 tbsp Greek yogurt
1 tbsp olive oil
1 tbsp apple cider vinegar
2 tbsp lemon juice
1 garlic clove, minced
½ tsp salt
1-2 tsp sriracha
INSTRUCTIONS
In a medium bowl, toss sweet potato cubes with ½ tbsp olive oil and 1 tsp each of salt & pepper.
Air fryer instructions: Preheat air fryer to 400F. Add seasoned sweet potatoes to the air fryer basket and cook for 10-12 minutes, shaking the basket half way.
Oven roasted instructions: Preheat oven to 425F. Transfer sweet potatoes to a baking sheet and spread evenly. Cook in the oven for 25-30 minutes, mixing half way.
While sweet potatoes are cooking, heat a skillet with ½ tbsp of oil over medium-low heat. Once hot add ground turkey, dried basil, paprika, garlic powder, and 1 tsp each of salt and pepper. Cook for about 5-7 minutes until fully browned and evenly cooked. Set aside.
While the beef cooks prepare sriracha yogurt dressing by combining Greek yogurt, olive oil, apple cider vinegar, lemon juice, garlic, salt, and sriracha to a small bowl and whisk to combine.
To a medium bowl add lettuce, cheese, red onion, avocado, and tomato. Portion ½ cup of ground turkey and ⅓ cup of sweet potato and add to the salad.
Drizzle 2-3 tbsp of yogurt dressing on top of salad and top with sesame seeds.
Serves: 1