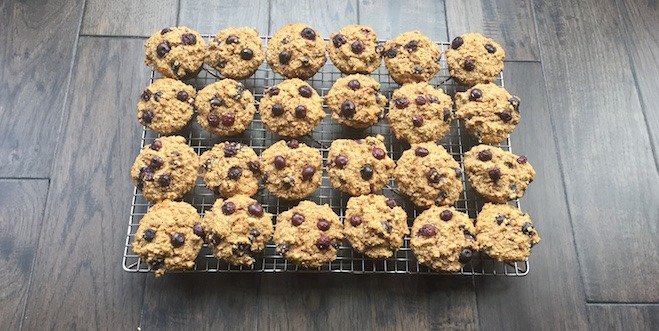 INGREDIENTS
¾ cup All Bran Cereal
1 cup skim milk
1½ cups oat bran
⅔ cup whole wheat flour
⅓ cup sugar
2 tsp. baking powder
½ tsp baking soda
¼ tsp salt
½ tsp cinnamon
1 ripe banana, mashed
1 egg, lightly beaten
2 tsp vegetable oil
½ cup unsweetened applesauce
1 cup fresh blueberries
Cooking spray for the muffin tin or muffin tin liners
DIRECTIONS
Preheat oven to 350˚F.
Grease a 12-cup or 24 mini-cup muffin tin with oil spray.
Mix the All Bran Cereal and the skim milk in a small bowl and let stand while you prepare the other ingredients.
In a large bowl mix the oat bran, flour, sugar, baking powder, baking soda, salt, and cinnamon.
In a small bowl, combine the banana, egg, vegetable oil, and applesauce. Stir in the All Bran mixture and blueberries. Stir this mixture into the dry ingredients, and mix ONLY until incorporated. DO NOT OVERMIX.
Spoon mixture into prepared muffin tin. Bake for 20 minutes for the larger muffins or 15-18 minutes for the mini muffins. Bake until golden on top.
Cool for 5 minutes in the tin. Remove the muffins and let cool on a wire rack.
These muffins freeze well. Kids love them for their lunch box.
Yield: 24 mini muffins or 12 regular size muffins
NOTE: Nutritional analysis reflects regular size muffin
Kitchen Utensils Needed
Measuring cups and spoons, dry and wet
Muffin tin
Mixing bowls
Spatula/fork
Wire cooling rack