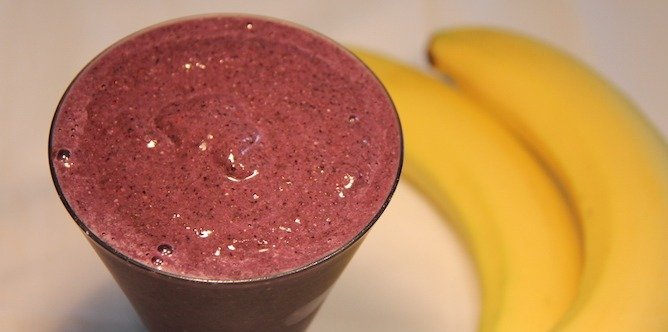 This smoothie is a great way to increase your antioxidants and to make sure you get a healthy serving of greens every day. I feel clean when I drink this and it makes me feel like I'm doing something really nice for my body.
INGREDIENTS
1 tbsp hemp hearts
1 tbsp chia seeds
½ cup frozen kale
1 cup frozen blueberries
1 cup water
1 small fresh or frozen banana
1 scoop of protein powder (I like Sun Warrior, vanilla)
DIRECTIONS
Place all ingredients in the blender (I measure the water first using the measurements on the blender and then place everything else in). Blend on high for a minute or so. You can add ice if you want it thicker and colder.
Transfer to a large drinking glass, enjoy!
Cooks' Tip: To make things a little faster in the mornings, I prepare single serving grab bags all at once. I portion 1 cup blueberries, ½ cup kale and 1 banana cut in pieces in each bag then and freeze the individual bags. In the morning all I have to do is fill the blender with the 1 cup liquid, dump in the contents of the grab bag and scoop the dry ingredients into the blender.
Serves 1