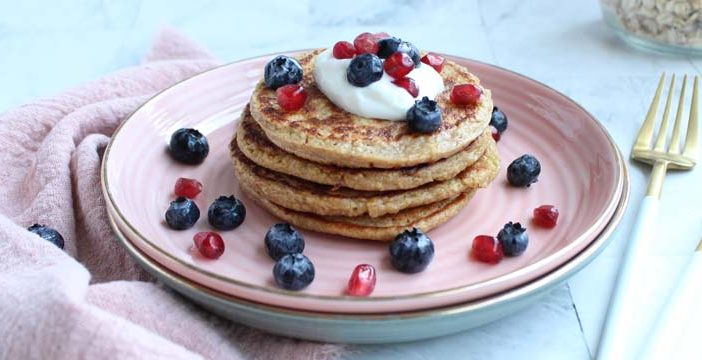 These blender oatmeal pancakes are not only super easy to whip up but they are also loaded with protein and fiber thanks to the addition of Greek yogurt, rolled oats, and flaxseed.
INGREDIENTS
1 cup rolled oats
1 cup Greek yogurt
½ medium banana
2 eggs
2 tbsp ground flaxseed
1 tsp vanilla extract
1 tsp cinnamon
1 tsp baking powder
Pinch of salt
INSTRUCTIONS
To a blender, add oats and blend until you reach a flour-like consistency.
Add the yogurt, banana, eggs, flaxseed, vanilla, cinnamon, baking powder, and salt to the same blender and continue to blend until all ingredients are well combined and form a smooth batter.
Let the batter rest for 10 minutes, as this will allow the oats to absorb the liquid and thicken.
Lightly grease a non-stick skillet with cooking spray and preheat over medium-heat.
Pour ¼ cup of batter onto the skillet for each pancake and cook each pancake for 2-3 minutes, or until bubbles begin to appear on the surface.
Flip each pancake and cook for another 1-2 minutes or until golden brown.
Serve pancakes with fresh fruit and yogurt and enjoy!
Serves: 2